Tuna Mushroom Pasta – Japanese Style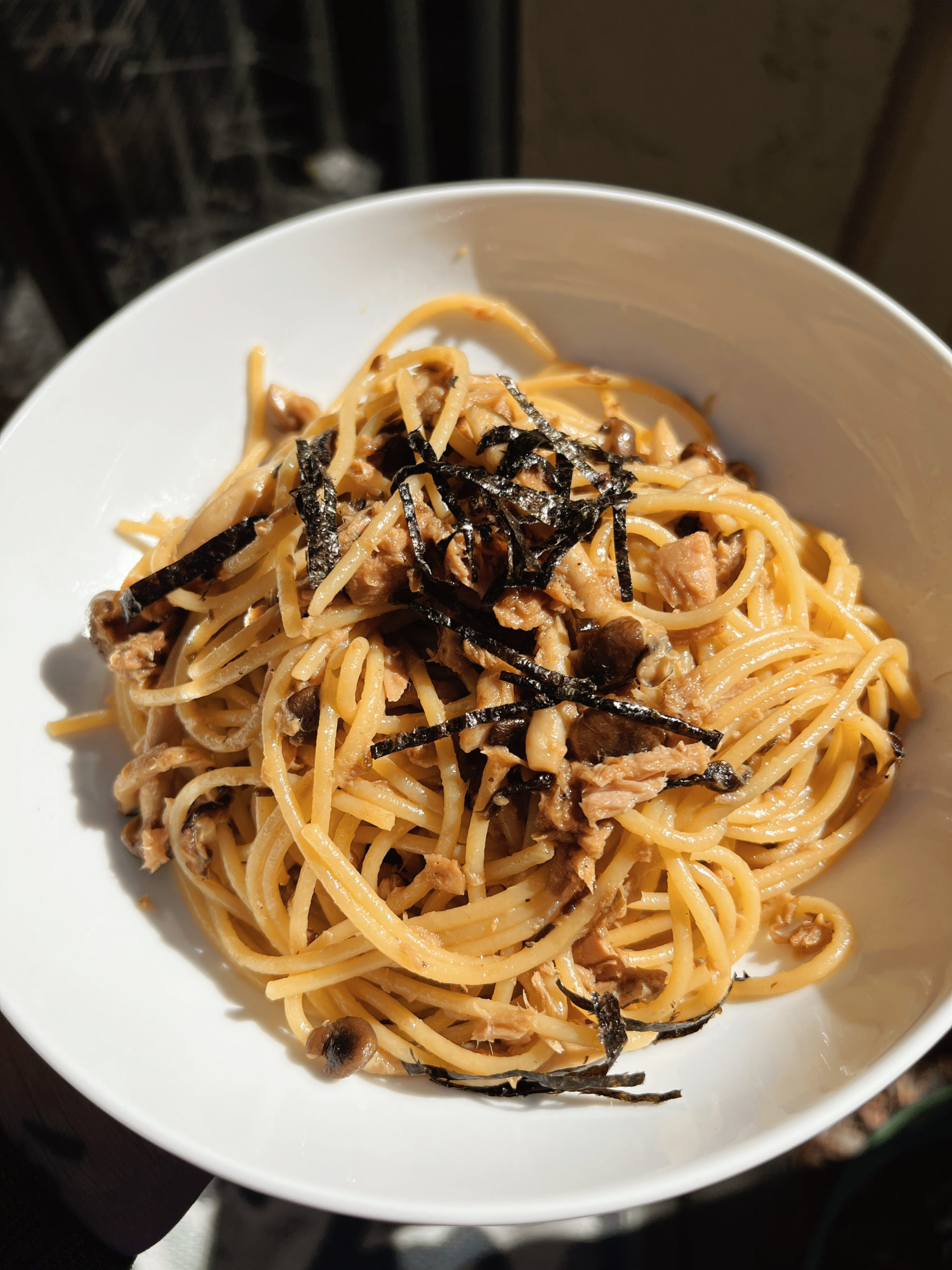 I love visiting Japan as often as I can, but due to the state of the world, it has been a long time since I have been able to go visit (unless you count the transit time I had there a few weeks ago). If you don't know, I am half Japanese. I love Japanese culture and food just as much as most people around the world seem too. But, when it comes to food, my favorite food to eat in Japan is not the usual choice of sushi, rice, ramen, tempura, etc. THOUGH I DO LOVE ALL THOSE THINGS. My favorite cuisine is actually Japanese style Italian food, especially pasta. I know whaaaaaaaat?? Well, it's true. There is something about adding Japanese flavor profiles to Italian food.
In fact, when I went to Italy many years ago, I couldn't help but notice a similarity between Japan and Italy. I don't want to bore you with my thoughts on this but just trust me – it's there.
Anyway, luckily for me, it is not hard to make Japanese style pasta dishes at home. These quick and easy meals can be made with any combination of items you have on had. Pasta-bilities are completely infinite!
Here is an easy one for you to try which includes my favorite – tinned fish. Specifically tuna in olive oil. Yum! I hope you give this one a try, it was truly delicious.
Tuna Mushroom Pasta – Japanese Style
Course: Lunch, Dinner
Difficulty: Easy
Easy and delicious Japanese style pasta.
Ingredients
½ package Shimeji mushrooms (or other types of mushrooms)

1 can tuna (preferably in olive oil)

8 oz of spaghetti

1 ½  Tbsp kosher salt (for cooking pasta)

2 Tbsp extra-virgin olive oil


For the Sauce

⅛ tsp freshly ground black pepper

1/4 tsp kosher salt

2 Tbsp sake

2 Tbsp mentsuyu (noodle soup base)

1 Tbsp unsalted butter

1 Tbsp shio kombu (salted thin strips of dried seaweed)


Garnish

Shredded nori (seaweed)
Directions
Bring a pot of water to a boil, salt the water. Cook spaghetti 2 minutes less than the time listed on the package. Reserve about 4 Tbsp pasta water.
While the pasta is cooking, in a separate pan, heat up olive oil. Add in mushrooms and saute for about 60 seconds. Then add the tuna and heat it through.
Add in the sake, mentsuyu, black pepper, salt and butter to the pan and combine.
Add in pasta and combine with the sauce. Add in pasta water and swirl noodles until slightly thick.
Top with shredded nori and enjoy!
---
---