Gyoza (Japanese Dumplings)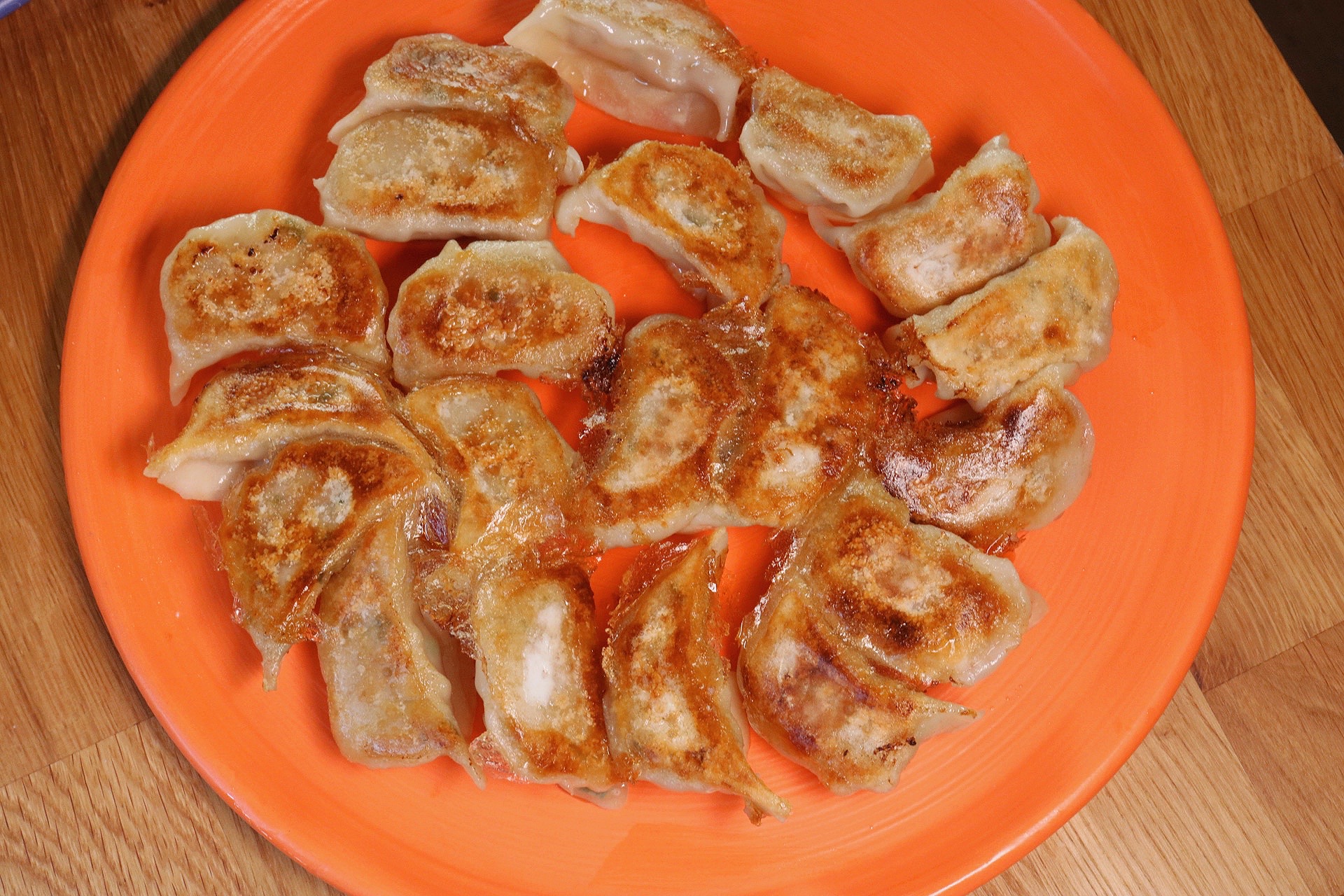 This post may contain affiliate links for products discussed. As an Amazon Associate, I earn from qualifying purchases. What this means is that by clicking one of these links, we may sometimes receive an affiliate fee.
Hello! Anyone love a good dumpling as much as I do??????
Japanese Gyoza has been a favorite of mine since I was a child. It is something I always had to have when eating ramen or a happy addition to the bento boxes my dad used to make me. They are super easy to make and they freeze really well too. It's great to have on hand when you want a snack or easy meal. Making them is very relaxing to me and also helps me relieve stress and anxiety. I suggest you prep the filling and set up a dumpling making stating at a table. Then, sit back and watch your favorite show, listen to your favorite podcast, or WATCH ALL MY YOUTUBE VIDEOS while putting these dumplings together.
I hope you give this a try. Happy dumping my friends!
Gyoza (Japanese Dumplings)
Cuisine: Japanese
Difficulty: Medium
Ingredients
(Links to specialty ingredients at the bottom of the recipe card)

GYOZA FILLING (SIMPLE Version- THE ONE IN THE YOUTUBE VIDEO)
¾ lb ground pork

5 oz napa cabbage (2-3 leaves)

2 green onion/scallion

2 shiitake mushrooms

1 clove garlic, grated

1 tbsp sesame oil

1 tsp sugar

1 inch garlic, grated

1 tsp sake

1 tsp toasted sesame oil

1 tsp soy sauce

¼ tsp kosher/sea salt

freshly ground black pepper


*UPDATED* GYOZA FILLING (THE ONE IN THE INSTAGRAM REEL)


300g Ground Pork

80g Garlic Chives/Chinese Chives

300g Pickled Napa Cabbage [quick pickle: 6g salt, dried kombu (seaweed), and enough water to cover all cabbage. Combine all ingredients and place a weight on top. Leave in fridge for at least 2 hours.]

3 tbsp water

1 tbsp potato starch

1 tbsp sake

2 tsp soy sauce

2 tsp chicken powder

1 inch piece ginger, grated

2 garlic cloves, grated

fresh cracked black pepper


FOR FRYING GYOZA (REFERENCE YOUTUBE VIDEO FOR PROCESS)

1 package gyoza wrappers

¼ cup water

1-2 tsp sesame oil

GYOZA DIPPING SAUCE


1 Tbsp rice vinegar

1 Tbsp soy sauce

⅛ tsp la-yu (Japanese chili oil)
Directions
In a bowl, combine all filling ingredients. Mix with your hands until it becomes a sticky pale mixture.
Fill gyoza wrapper and shape (see YouTube video).
To cook, heat a pan to medium heat, arrange gyoza in pan. Add 1/4 cup water and cover pan.
Once gyoza has plumped up and water has almost completely evaporated, add sesame oil.
Fry until golden brown and crisp on one side.
Serve with dipping sauce and enjoy!
Recipe Video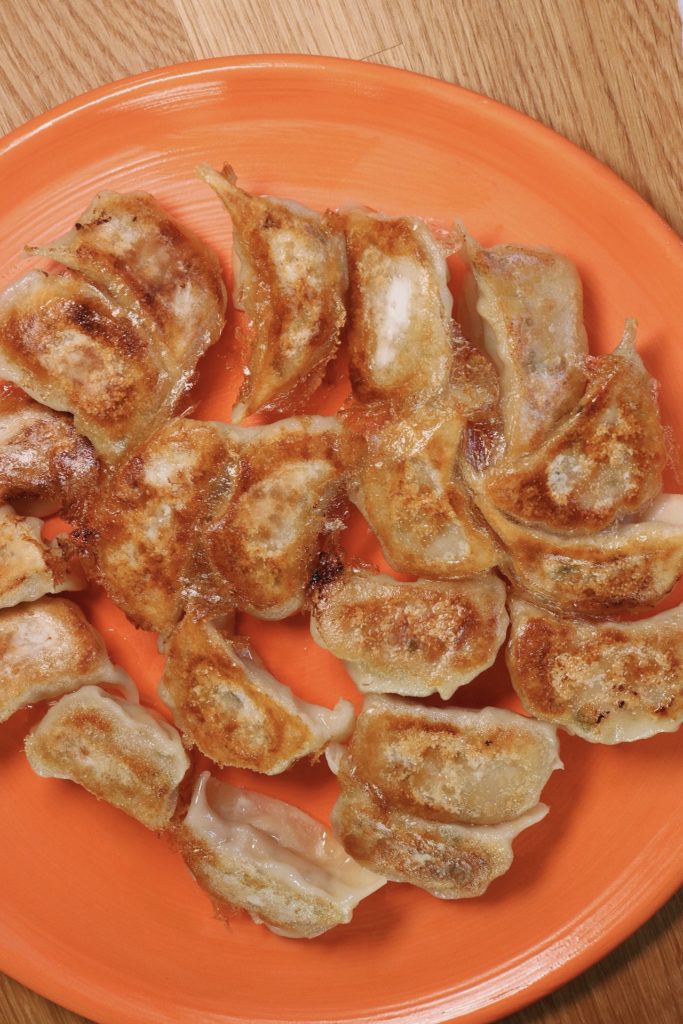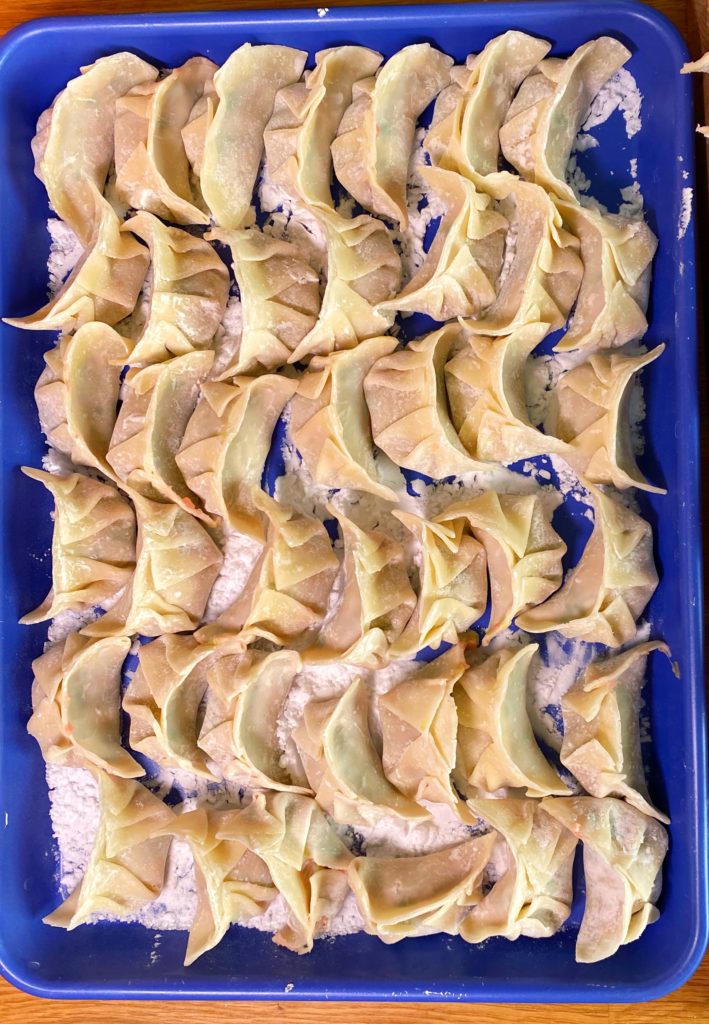 ---
---