Caldereta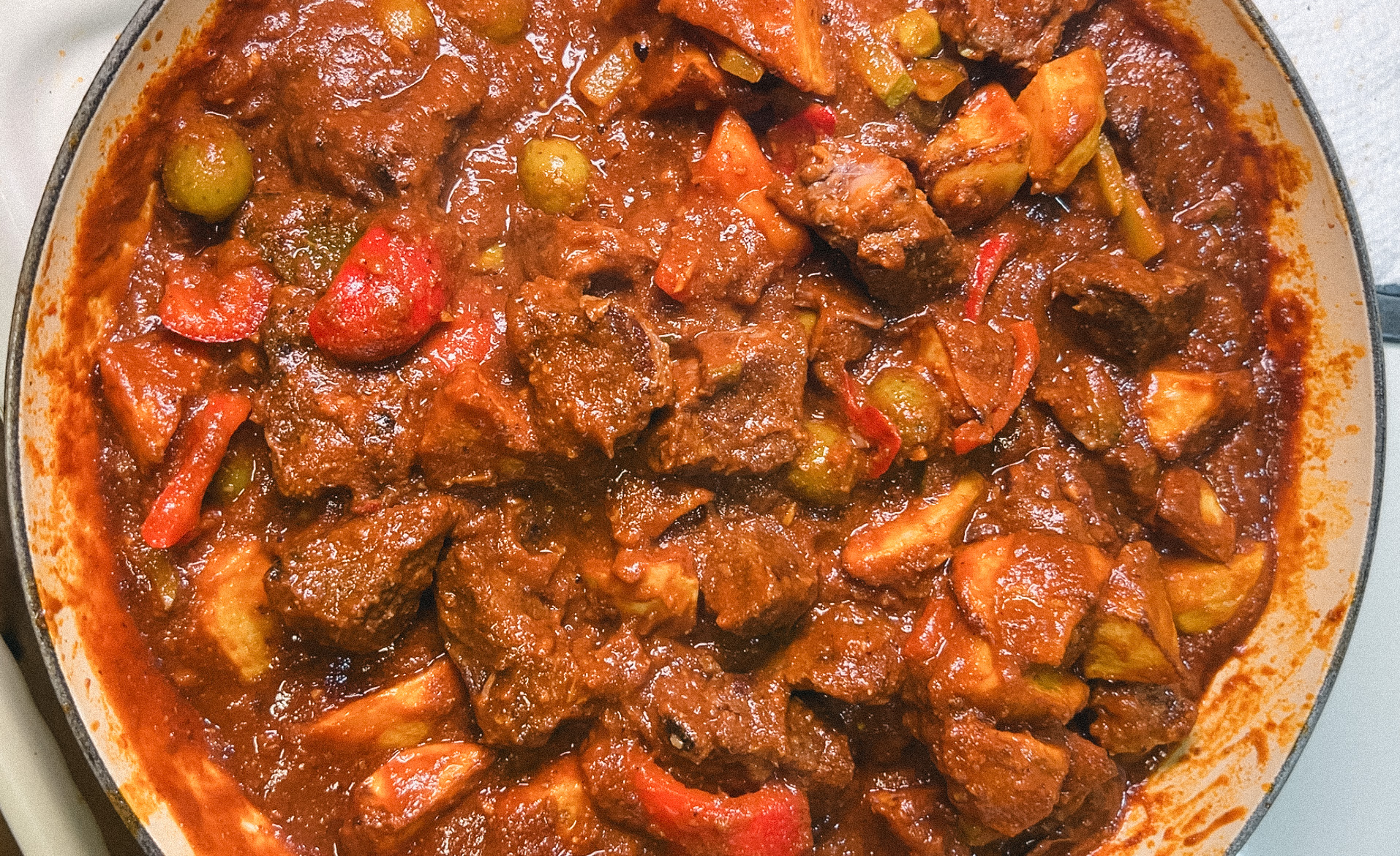 Caldereta is essentially Filipino Beef Stew. And of course you eat it with rice.
Caldereta
Course: Lunch, Dinner
Cuisine: FIlipino
Difficulty: Easy
Ingredients
2 pounds beef chuck, cut into large chunks 

1 onion, chopped

4-6 garlic cloves, chopped

1 red bell pepper, sliced

2-3 bay leaves

8 oz can tomato sauce

4 tablespoons tomato paste

4.25 oz can liver spread (alternate: use peanut butter)

2 tablespoon sugar

1 tablespoon fish sauce

1/2 cup pickles, chopped into bite size pieces

4 oz pitted green olives

Neutral oil (i.e. canola or vegetable)

Kosher salt and fresh cracked black pepper

1/4 red pepper flakes (optional)
Directions
Heat a heavy bottom pot over medium high heat, coat the bottom of the pan with oil. 
Season beef with salt and pepper. Add beef into pot, leaving room between  pieces. Sear for about 2 minutes per side until browned on all sides. Note: work in batches so you don't overcrowd the pan. Once seared on all sides, remove beef and set aside.
Add red bell pepper to pot and lightly blister. Remove and set aside.
Add in potatoes and sear until browned on all sides. Remove and set aside.

(If you have an air fryer you can air fry the potatoes as well @ 400° F for about 20 minutes, tossing half way through.)
Add in a tablespoon of oil into the pot and add onions and garlic. Cook until soft.
Add in tomato paste and cook until it becomes a brick red color. If using, add in red pepper flakes. Add beef back into the pot.
Add tomato sauce, equal amount of water, 2-3 bay leaves, 2 tablespoon sugar, 1 tablespoon fish sauce. Mix to combine and bring to a boil. 
Lower heat to medium, cover pot and let simmer for 1.5 – 2 hours until beef is fork tender. As it is simmering, check periodically and skim fat as it rises to the top. 
Once beef is tender, add in potatoes, red bell peppers, pickles, green olives, and liver spread. Stir everything together and cook for another 5 minutes. 
Serve with fresh white rice. 
Notes
Caldereta makes great left overs and tastes even better the next day.
---
---