Dijon Mustard and Vinegar Potato Salad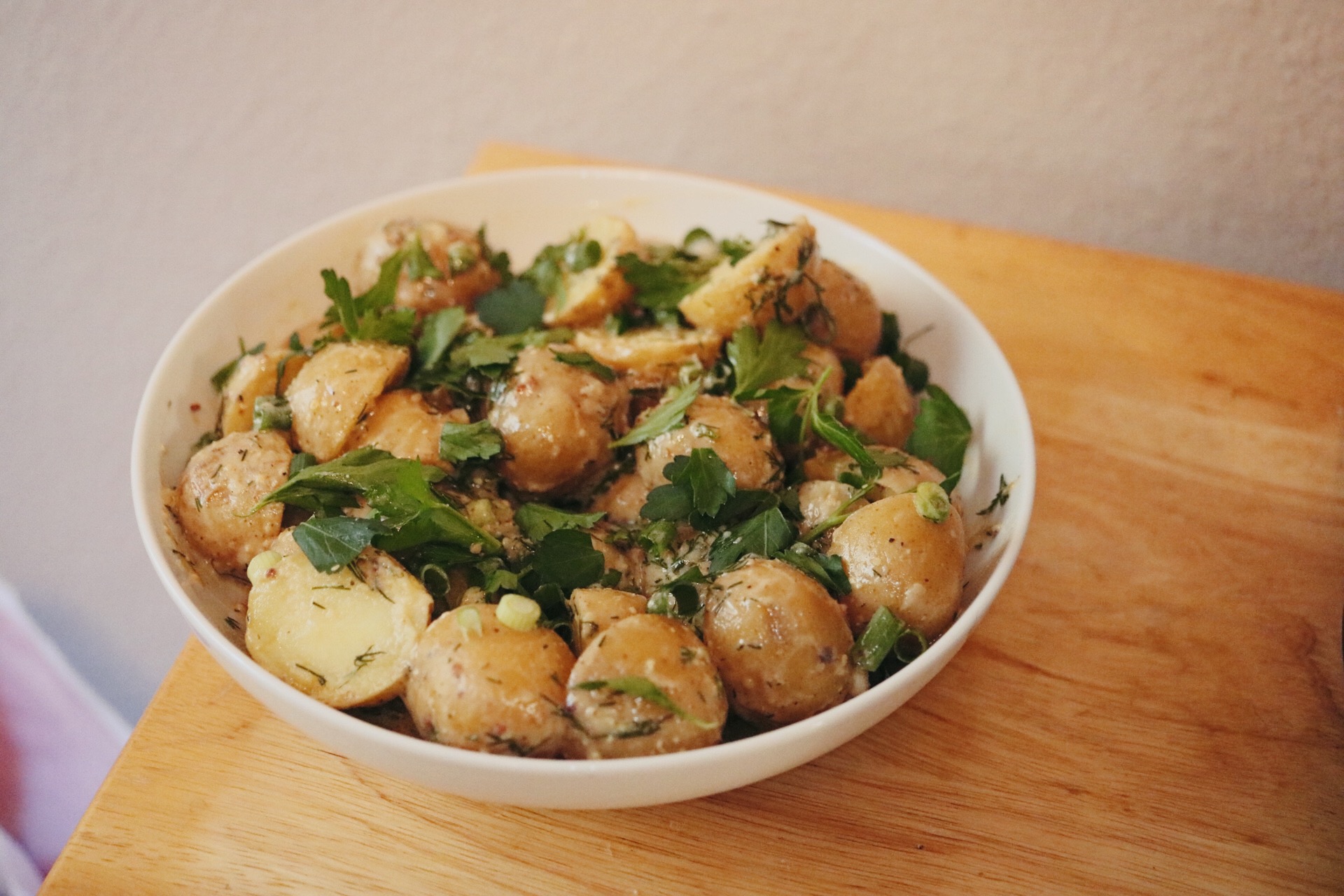 Here is a mayo-less potato salad. The creamy dressing is made from a combination of dijon mustard and olive oil. A combination of vinegars adds a delicious tangy flavor. Plus garlic and dill make these potatoes taste like pickles. This a crowd pleaser. Make some to share or just for yourself.
Ingredients:
Dijon Mustard and Vinegar Potato Salad
Course: Lunch, Dinner
Difficulty: Easy
Delicious potato salad!
Ingredients
2 pounds baby yellow potatoes 

1 Pinch sea salt and black pepper

1 cup diced green onion

1/4 cup fresh chopped parsley 

Dressing

2 1/2 Tbsp spicy brown mustard (or dijon mustard)

3 cloves garlic, minced

1/4 tsp each sea salt and black pepper (plus more to taste)

3 Tbsp red wine vinegar (or white wine vinegar)

1 Tbsp apple cider vinegar

3 Tbsp good olive oil 

1/4 cup fresh chopped dill
Directions
Rinse and scrub potatoes, then slice into 1/4-inch slices. Add to a large saucepan and cover with water. Add a large pinch of salt (for flavor) and bring to a boil. Once boiling, reduce heat slightly (to medium/high) and continue cooking for 10-15 minutes or until the potatoes are easily pierced with a knife and also easily slide off the knife. Be sure not to undercook the potatoes or they can be waxy and difficult to eat. When in doubt, carefully scoop out a potato and test it to see if it's the right doneness.
Once the potatoes have finished cooking, drain and rinse with cool water. Then once mostly dry, add to a large serving bowl. Season with a dash of salt and black pepper. Set aside.
While potatoes are cooking, prepare dressing. Add mustard, garlic, salt, pepper, red wine vinegar, and apple cider vinegar to a mixing bowl and whisk to combine. Then, while continuing to whisk, slowly stream in the olive oil to emulsify the oil and vinegar. Add the dill and whisk once more. 
Taste and adjust flavor as needed, adding more salt for saltiness, black pepper for spice, mustard for intense mustard flavor, vinegar for more acidity, or dill for herbal flavor.
Add the dressing to the potatoes along with the green onion and parsley, and toss to combine. Taste the potato salad and adjust salt and pepper again. It's now ready to enjoy, but it also soaks in more of the flavor of the dressing the longer it sits.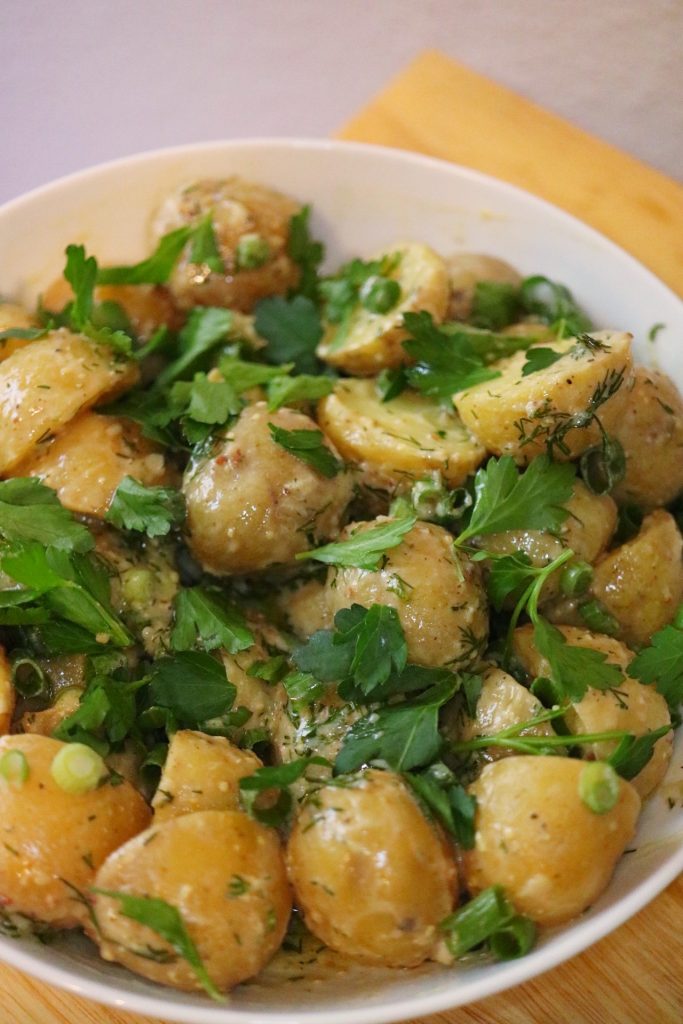 ---
---