Chicken Tinola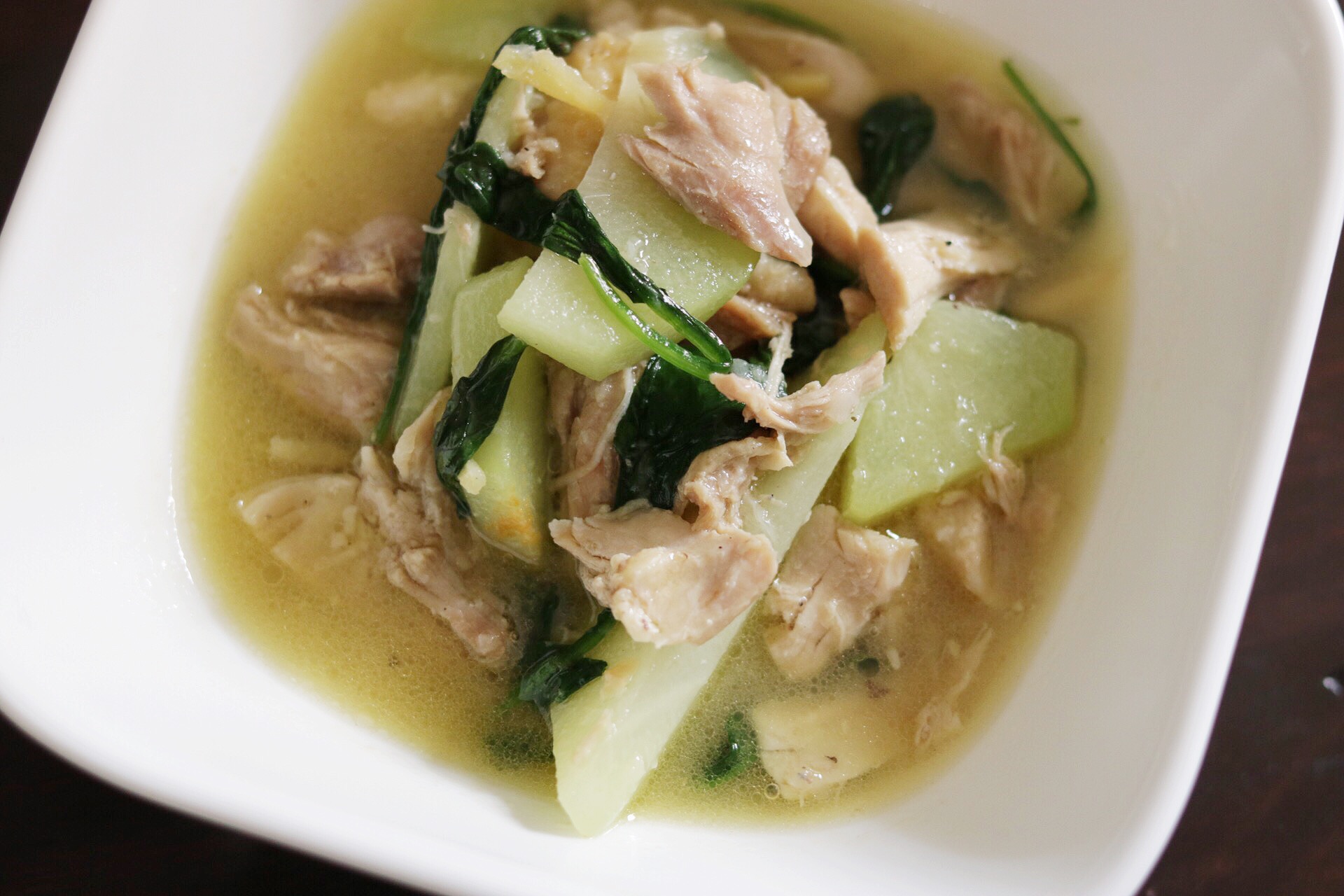 The weather is finally cooling down here in California and we've even started to get some rain! I love this time of year. Bundling up, sipping warm tea, family time, and FOOD… all the comforting food! Speaking of comfort food, it's the perfect time of year to enjoy one of my most favorite food groups of all time – SOUP. I love soup. Like….. really LOVE soup.
Chicken Tinola is a favorite of mine that is SOUPer (hah!) easy to make and soooo satisfying. Traditionally, this dish is cooked with chicken, green papaya, and siling labuyo (chili pepper) leaves in a broth flavored with ginger, onions and fish sauce. I don't usually find green papaya or siling labuyo leaves easily, so I tend to improvise when I make this dish. I often substitute chayote squash for the green papaya and spinach in place of the siling labuyo leaves. The results are still just as delicious and these substitutions allow you to make this dish all year round. Making this dish is fairly simple and I think you should definitely give this a try.
Chicken Tinola
Course: Food
Ingredients
1 whole chicken, cut into pieces

36 ounces of rice washing, yes the starchy water from washing rice

2 chayote squash, peeled, seeded and cut into wedges

4 garlic cloves, minced

1 medium sized onion, chopped

1 thumb ginger, cut into strips

2 tbsp fish sauce

2 cups spinach
Directions
Heat a large pot to medium-high heat with about 2 tablespoons of cooking oil.
Dry the chicken pieces and season with salt and pepper. Once the pot and oil have come to temperature, add chicken pieces skin-side down. Brown one side then flip over and brown the other side. This is an important step to building flavor. Chicken will not need to be cooked thoroughly at this time because you will continue to cook it in the broth. Once both sides are brown, take pieces out and set aside.
Next, sauté the garlic, onion, and ginger, scraping the brown bits (flavor) at the bottom of the pan.
Add the fish sauce and mix well.
Pour-in the rice washing and put to a boil. Simmer for 45 minutes.
Add the chayote squash wedges and simmer for 5 minutes
Add spinach.
Serve hot with white rice. Share and enjoy!
Notes
Tip: Cooking the soup with bone-in chicken makes for a much more delicious broth. I am a lazy eater so I like to debone and hand shred my chicken after letting the soup simmer, so it's easier to eat. This is not a necessary step but just wanted to explain that is why it looks like I used boneless chicken.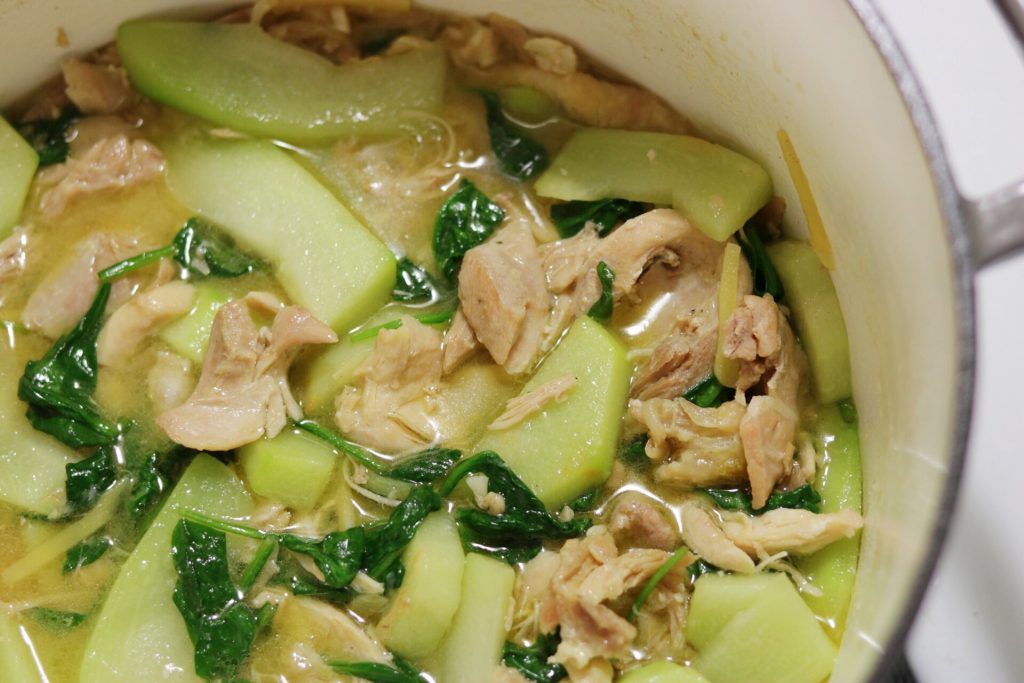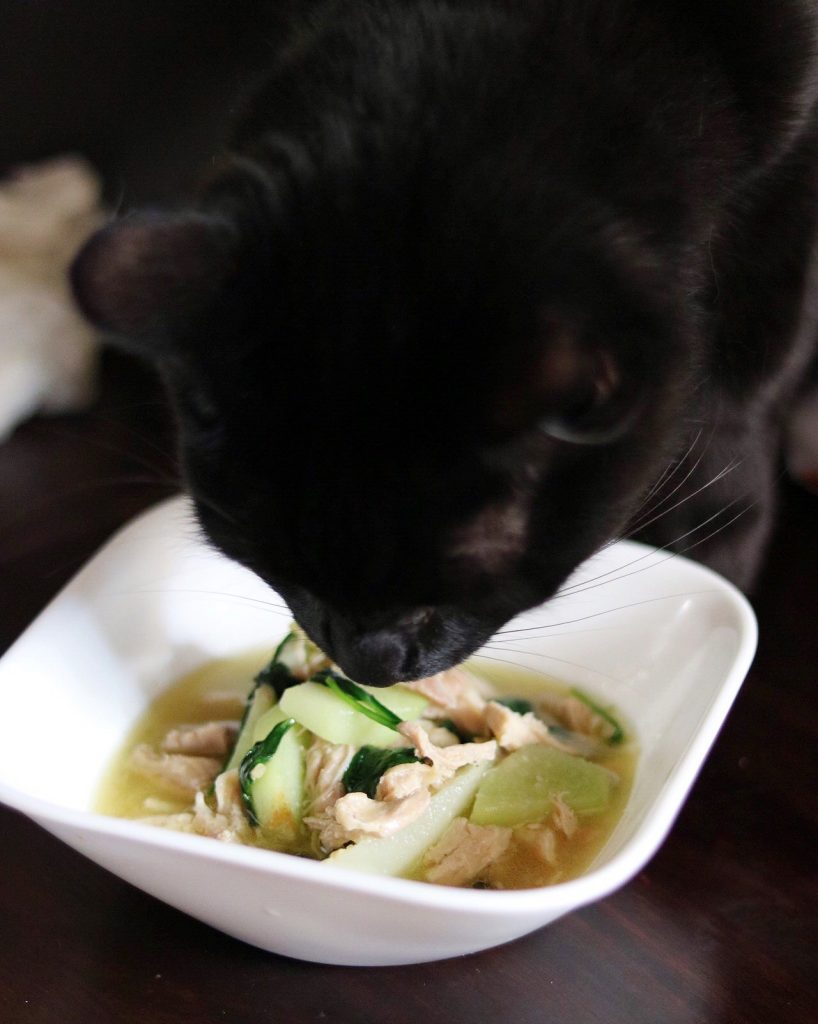 ---
---