Chamorro BBQ Chicken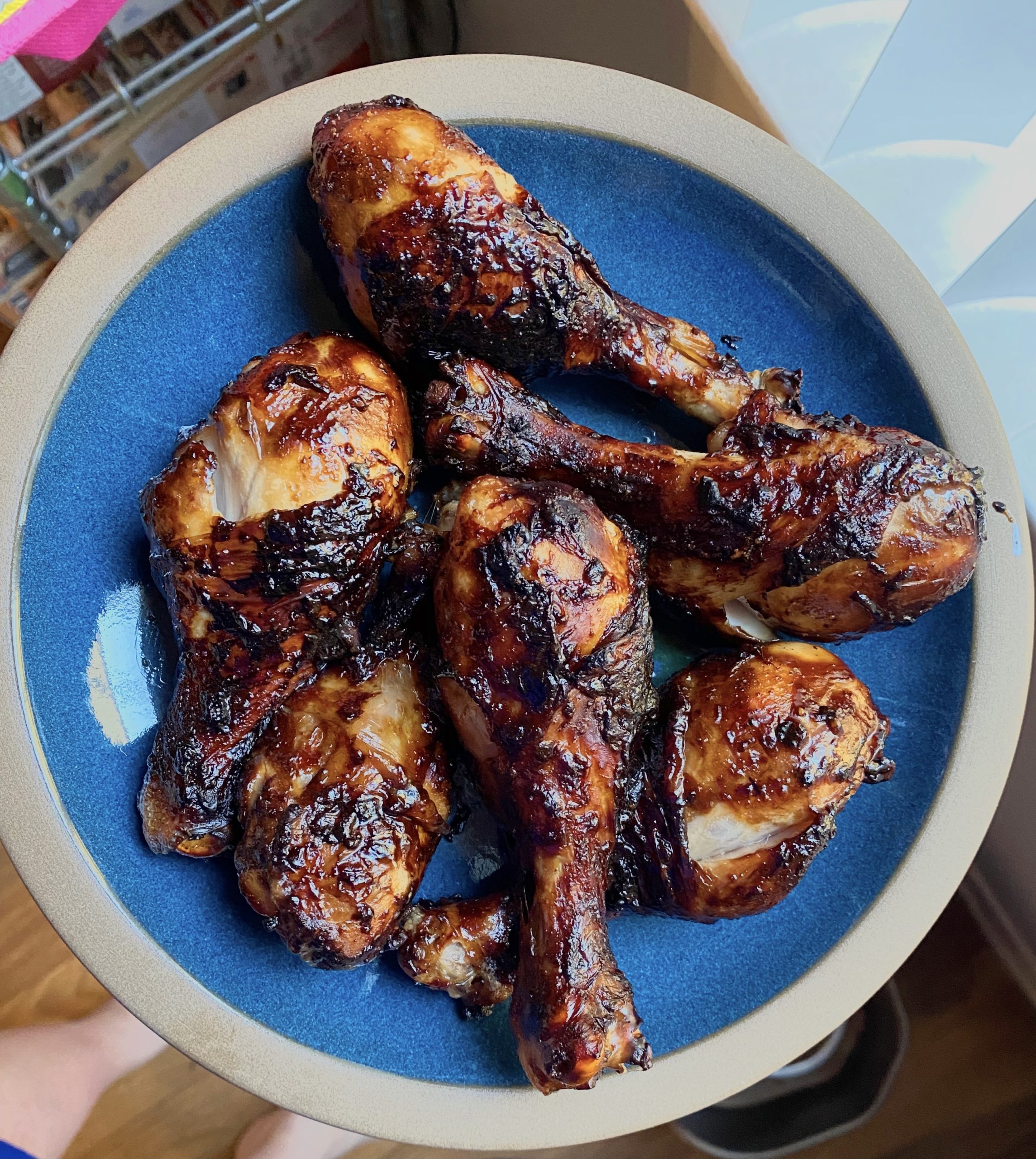 In case you didn't know, I was born and raised on the island of Guam. One of the most memorable foods from back home has to be the Chamorro BBQ. I always miss home and being able to make food that connects me to my memories is the best. I hope you try this out yourself and enjoy it as much as I do.
Chamorro BBQ Chicken
Cuisine: Chamorro
Difficulty: Easy
Ingredients
2 pounds of chicken drums or thighs (can be bone-in or boneless/skinless)

Marinade

1 cup soy sauce

1 cup Sprite (7up, even Coca-Cola works too)

3 lemons, juiced

4-5 smashed garlic cloves (substitute: 1 tbsp garlic powder)

1 medium onion, sliced (substitute: 1 tbsp onion powder)

1/2 tbsp fresh cracked black pepper 

Glaze for Basting

1/2 cup soy sauce

1/4 cup vinegar

1 tsp garlic powder

1 tbsp brown sugar

1 tbsp corn starch

Finadene

Equal parts soy sauce and lemon juice

1 small onion diced

1 jalapeno, diced

Directions
Combine all marinade ingredients and chicken in a resealable bag or bowl with a tight fitting lid. Marinate chicken for at least 2 hours, but it is best to do so overnight.
When ready to cook the chicken, remove chicken pieces from marinade and pat dry.
Airfry chicken pieces for 12 minutes at 400ºF.
While the chicken is cooking, making your glaze for basting. Combine all the glaze ingredients in a small sauce pan and whisk to combine. Heat sauce and bring to simmer, whisking to dissolve all the ingredients. Simmer until sauce is thick, then set aside.
Baste chicken with glaze and airfry for 5 minutes, then baste chicken again and airfry again for 5 minutes. Repeat this process multiple times until you reach a full cook time of 15 minutes. Chicken should be fully cooked by this time and have a crispy and charred exterior.
Serve chicken with finadene (see ingredients above – steps are super simple, just combine all together).
---
---