Garlic Shrimp!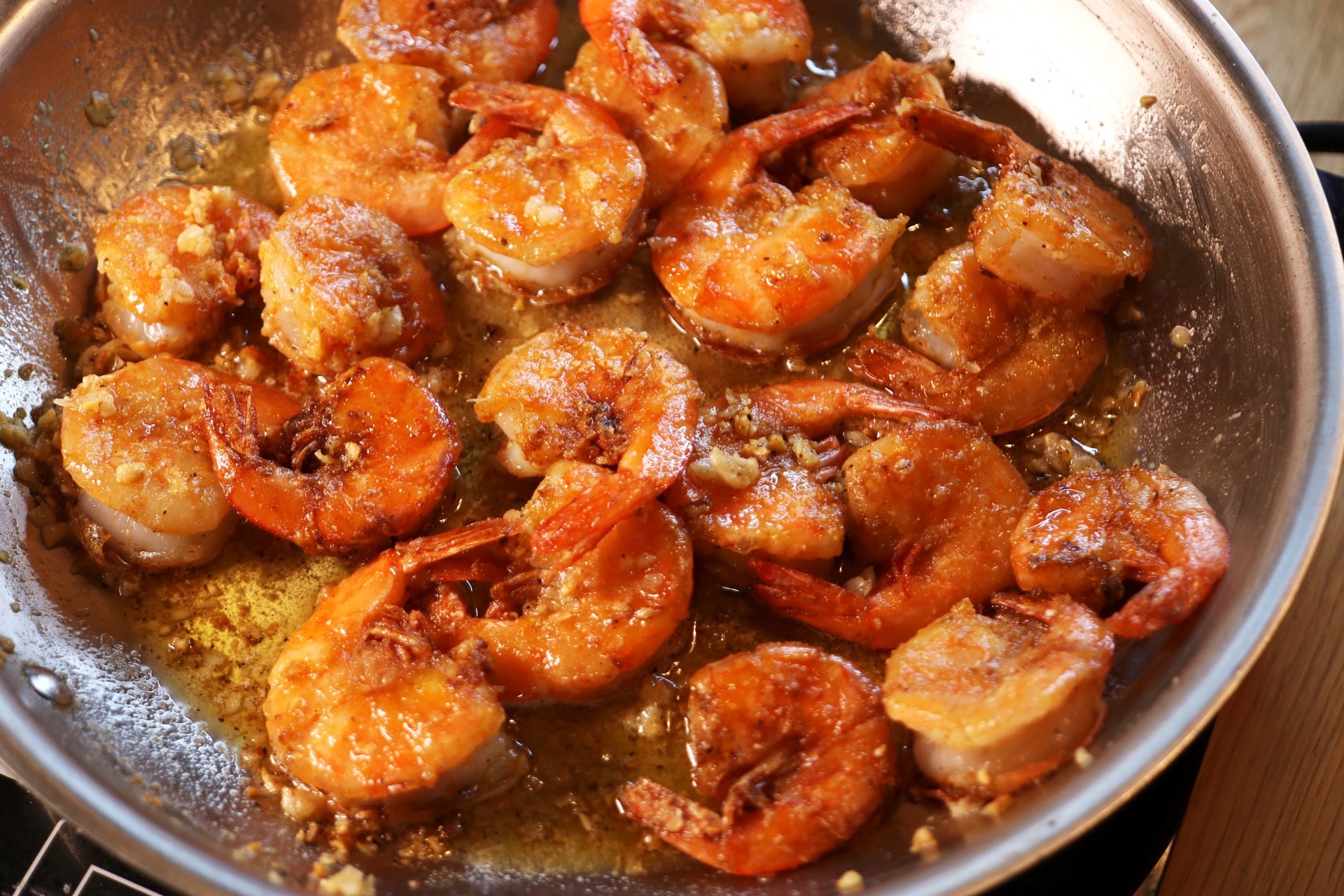 This is an easy weeknight meal. Brings me back to my trips to Hawaii, eating at Giovanni's Shrimp Truck. Every week we have some iteration of garlic shrimp. We eat it with bread, with pasta, with rice, etc..! And sure, you can have a salad with this meal too – for balance.
Garlic Shrimp!
Course: Lunch, Dinner
Cuisine: Seafood
Difficulty: Easy
Ingredients
2 pounds shell-on, deveined shrimp

1 lemon, zested and sliced into wedges

15-20 cloves of garlic, minced

1/2 tsp paprika

6 tbsp olive oil

6 tbsp butter

3 tbsp cornstarch

Fresh cracked black pepper
Directions
Marinate the 2 pounds of shrimp with zest of 1 lemon, 1 tbsp minced garlic, 1/2 tsp paprika, 1 tbsp olive oil. Mix to combine all ingredients and let marinate for 30 minutes.
After 30 minutes, heat up a 12 inch skillet with equal parts butter and olive oil over medium low heat. 
Lightly coat each piece of shrimp with cornstarch and cook until crispy on each side – about 2 minutes per side. You may do this in batches. Once all the shrimp is cooked, set aside
Prepare the garlic butter sauce. Wipe out the pan and melt 3 tbsp each butter and olive oil. Add in the rest of the minced garlic over medium low heat until golden brown. Continuously move garlic around to prevent burning.
Once the garlic is golden, add the shrimp back into the pan and toss with the garlic butter sauce
Squeeze lemon juice and serve with white rice topped with extra garlic butter sauce.
Recipe Video
---
---