ULAM: Main Dish – Review (sort of)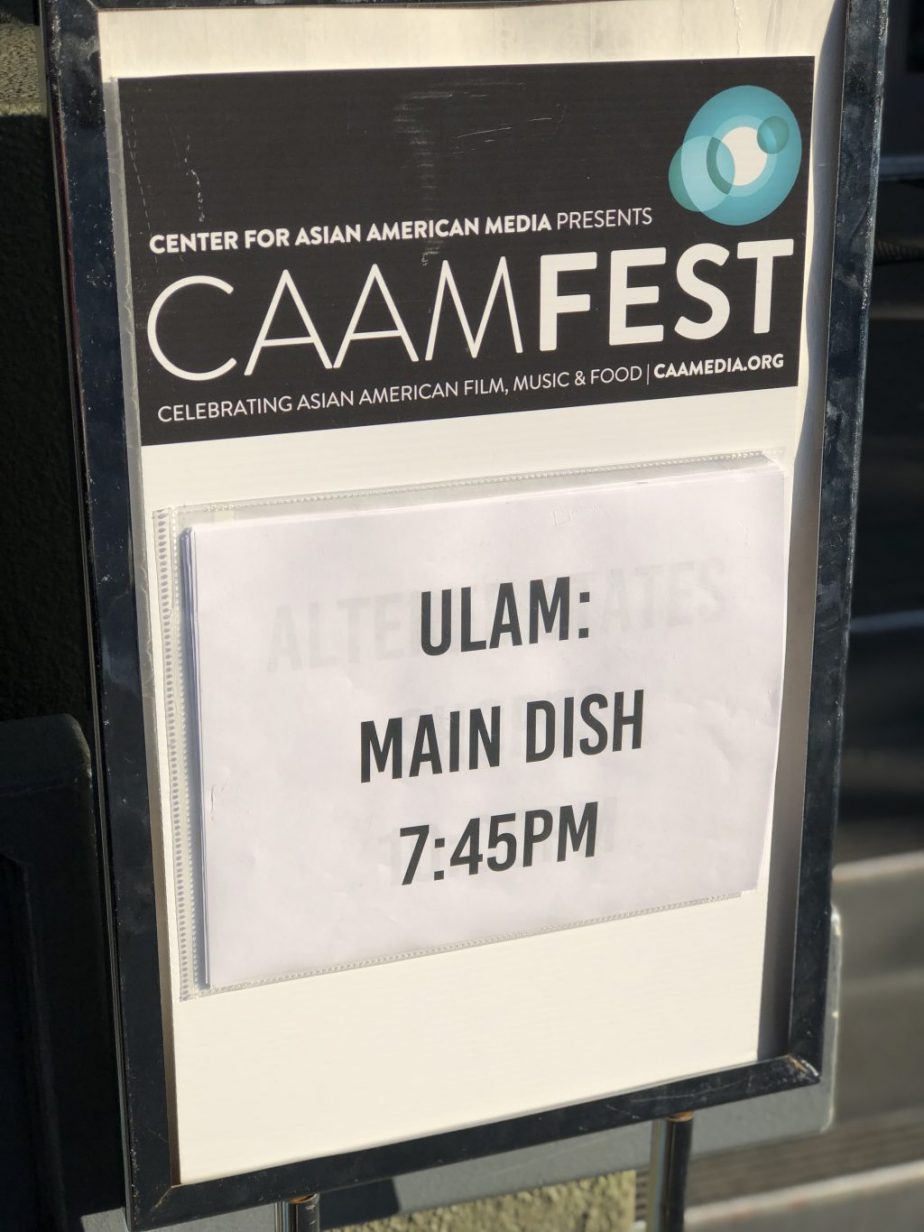 Hi Everyone! A few weeks ago I had the opportunity to do something I had been looking forward to for a few months. Since I first became aware of ULAM: Main Dish – a food documentary about Filipino food directed by Alexandra Cuerdo – and watched the first trailer I was incredibly excited! If you know anything about me there are 2 things I am obsessed with: (1) food documentaries and (2) Filipino food. Okay, I am obsessed with a few other things but these 2 particular things rank pretty high on my list of obsessions. Lucky for me there were several screenings close by in San Francisco. Although I initially missed the first world premiere screening, I discovered they were showing the film again at CAAMFest 2018. YAY! Lou and I made our way to San Francisco on a FriDATE night. We arrived in the city early enough to make it to the front of the line of the show to get good seats. In fact, we even made it onto @ulamthemovie IG story! I know we are famous… *hair flip* JK JK!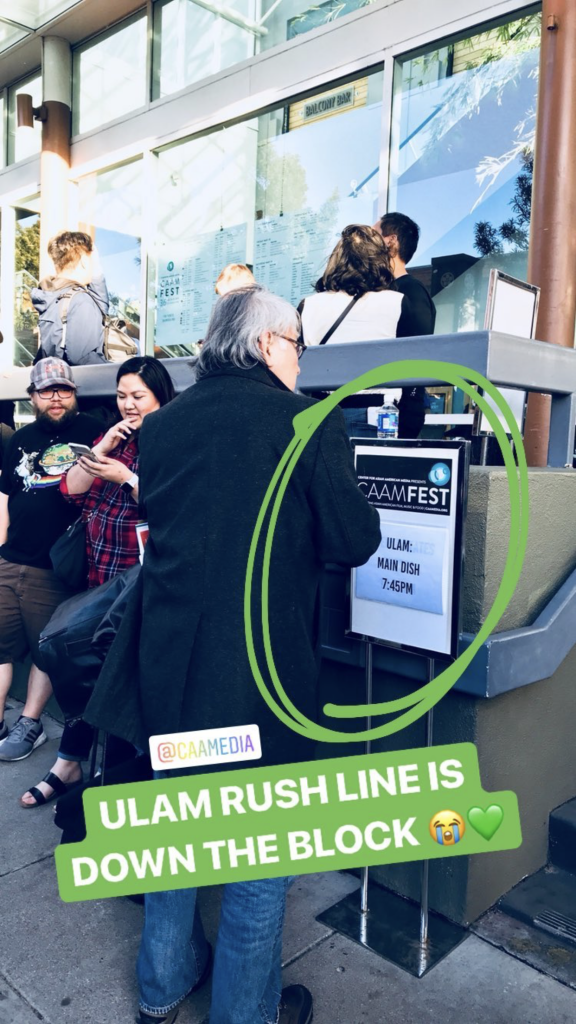 Anyway, about the film itself. WOW! This film had such a strong emotional effect on me. I was familiar with all the chefs and restaurateurs featured because they are some of the more popular individuals making an impact on putting Filipino food on the map.
Featuring: Alvin Cailan (Egglsut, Unit 120), Nicole Ponseca & Miguel Trinidad (Maharlika, Jeepney), Romy Dorotan & Amy Besa (Purple Yam), Johneric Concordia & Christine Araquel-Concordia (The Park's Finest), Charles Olalia (Ricebar), Chase Valencia & Chad Valencia (LASA), and Andre Guerrero (The Oinkster, Maximiliano, The Little Bear). – SOURCE: www.ulamthemovie.com
This film not only had a lot of drool-worthy food porn but it also had a strong message for the audience. I left the theater pondering about my role in not only helping increase the popularity of Filipino food but also I felt challenged to discover ways to make this food my own and create something new as I learn more about my culture. As a home cook, the idea of being creative in the kitchen is not one that I find myself getting into because usually my goal is to just make the best copycat version of some of my favorite foods. But the more I think about it, the way I make dishes isn't necessarily the "right" or "traditional" way but the FELICE way. And I now feel empowered to be more creative and try new things, after all cooking is basically trial and delicious (sometimes not delicious) error.
After the screening, there was a Q & A session and you could just feel the love and appreciation for the film in the theater. It's like finally our stories, experiences, food, culture are on the big screen! The audience was told this movie would become available for more people see. I cannot wait to share this film with my friends and family. This is a must see film. THANK YOU ALEXANDRA FOR MAKING THIS FILM.
If you have the opportunity to attend a screening, DO IT, but you will leave hungry. In fact, Lou and I craved Filipino breakfast after the movie so we headed to Lucky Chances Casino (per audience recommendation) to eat some longanisa, tapa, bangus, and garlic rice. Not going to lie, I went to Lucky Chances again a week later and just so you know, their Kare Kare is hella good!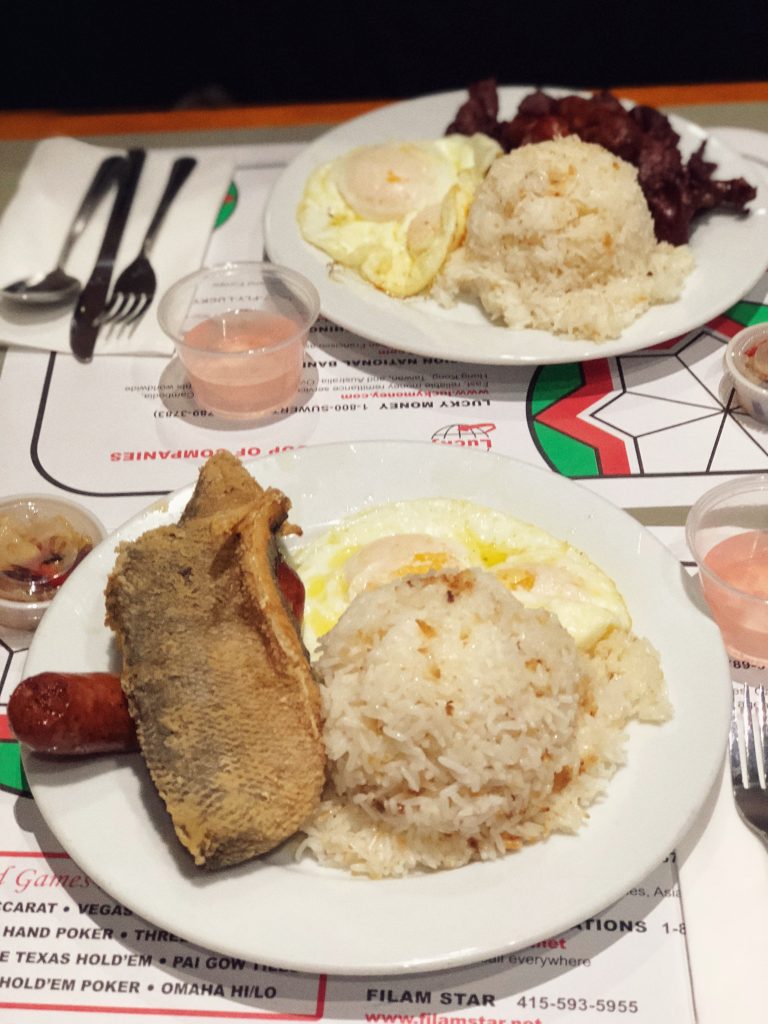 ---
---