Ukoy (Filipino Shrimp and Vegetable Fritters)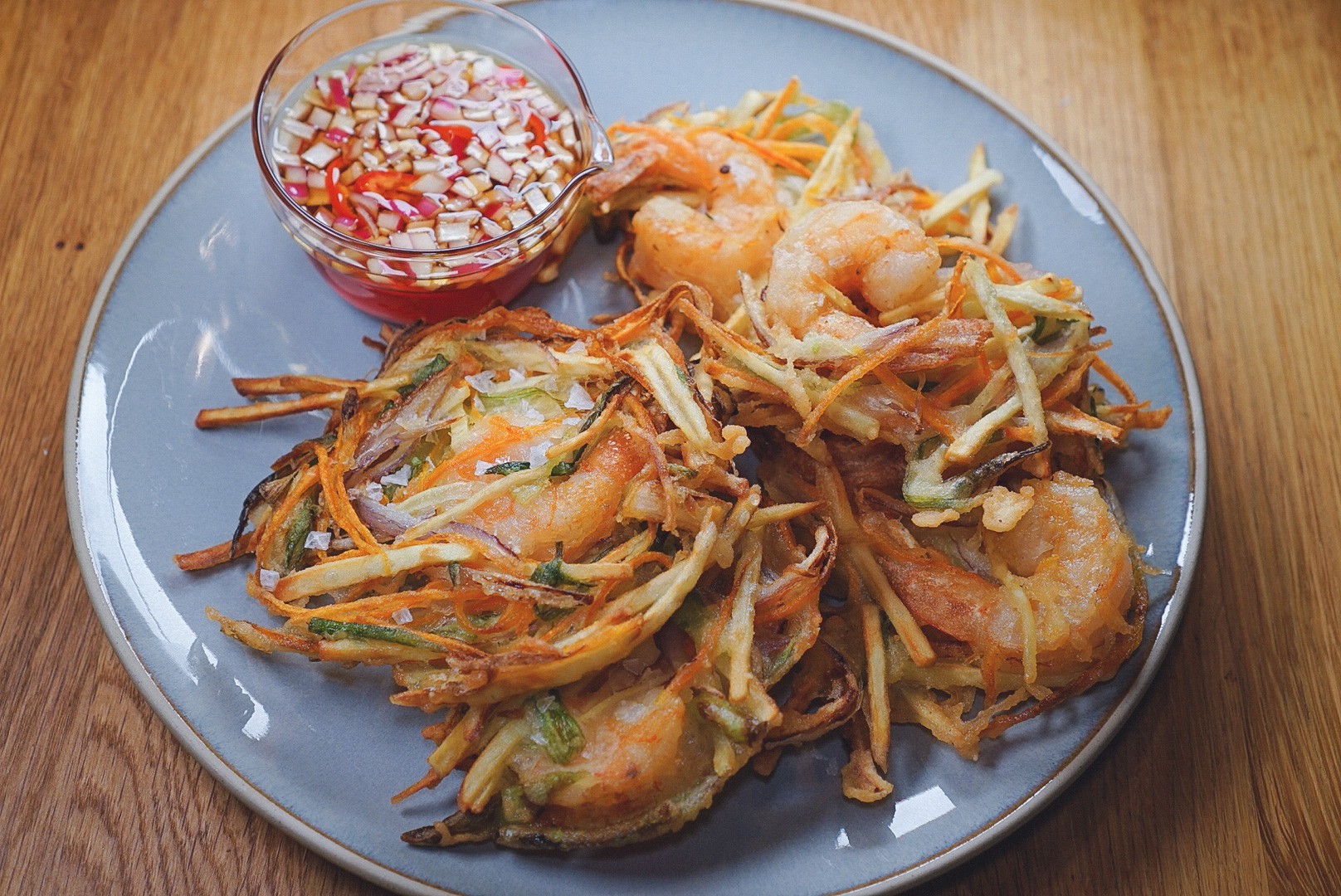 Traditionally this recipe uses tiny shrimp that you fry whole with all kinds of vegetables. I wanted to share a non-traditional version of this recipe that is accessible for anyone, anywhere to make. This is delicious and a must try!
Ukoy (Filipino Shrimp and Vegetable Fritters)
Course: Lunch, Dinner, Snack
Cuisine: Filipino
Difficulty: Medium
Ingredients
For the Fritters

1 cup (130 g) cornstarch

1 cup (130 g) rice flour

1 teaspoon kosher salt

1 cup (240 ml) water

1 Japanese sweet potato, peeled and cut into matchsticks

2 large carrots, peeled and cut into matchsticks

4 scallions, thinly sliced lengthwise then cut into 2 inch pieces

1 medium onion, thinly sliced

Freshly ground black pepper

1/3 cup vegetable or canola oil

1 pound raw small shrimp, peeled and deveined

Maldon sea salt, for sprinkling


For the Dipping Sauce

4 cloves garlic, minced

1 large red onion, chopped

2 tbsp sugar

3/4 cup white vinegar

1/4 cup water

3 tbsp soy sauce

3 pcs birds eye chilies, chopped (substitute: fresno chili or chili flakes)
Directions
In a large bowl, whisk together the corn starch, rice flour, and kosher salt. Stir in water and mix well.
In another large bowl, combine sweet potato, carrots, scallion, and onion. Season with kosher salt and pepper. Add vegetables to the batter, mix until the vegetables are just coated enough. Batter should be thick but loose enough to coat all the vegetables.
In a large sauté pan or cast iron skillet, heat vegetable/canola oil over medium heat to 350°F. Line a baking sheet with rack or paper towels and set it close by.
Shape fritter/ukoy on a slotted spoon and place a piece of shrimp middle of the nest then top with a little more vegetables. Gently slide the fritter/ukoy off the spoon and into the oil. Cook for 3 to 5 minutes on one side until crispy and golden brown. Then flip and cook for 3 to 5 more minutes until the other side is crispy and golden brown.

Remove from pan and place on wire rack, sprinkle with Maldon sea salt. Serve at room temperature with a vinegar dipping sauce.
---
---