Sinuglaw (Cured Tuna and Grilled Pork)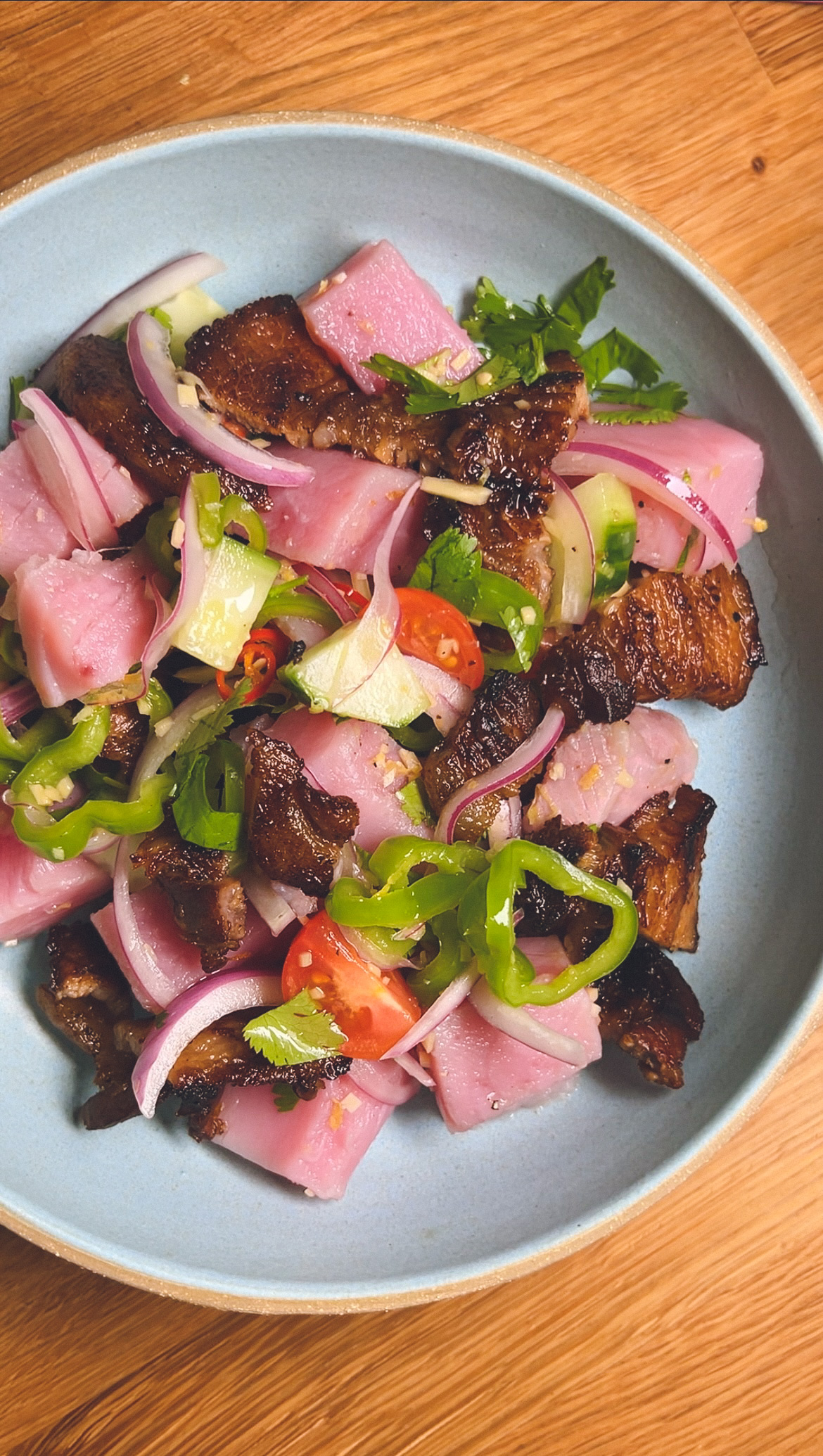 Sinuglaw is a dish composed of grilled pork belly and Filipino fish ceviche. The name "sinuglaw" was derived from two famous cooking methods in the Visayas and Mindanao areas: sugba, meaning to grill; and kinilaw, which means to cook by soaking in vinegar or citric acid.
Sinuglaw (Cured Tuna and Grilled Pork)
Course: Lunch, Dinner
Cuisine: Filipino
Difficulty: Easy
This dish is a combination of 2 Filipino dishes – Inihaw na Liempo and Kinilaw. Both delicious on their own but also amazing together.
Ingredients
½ pound grilled pork belly (see liempo recipe: calamansi version or banana ketchup version) 

½ pound sushi-grade tuna, large dice

1 cup white sugarcane vinegar or coconut vinegar

Kosher salt and freshly ground pepper

2 tablespoons fresh ginger, minced

2 tablespoons red onion, minced

1 long green chili (i.e. Anaheim peppers), seeded and minced

2 Thai chilis, minced

1 lemon, juice and zest

1 tablespoon fish sauce

1 cup cucumber, peeled, seeded, and diced

¼ cup cilantro

¼ cup cherry tomatoes, quartered
Directions
In a glass bowl, toss tuna with vinegar and a pinch of salt and pepper. Cover and refrigerate. Toss the fish mixture from time to time, let rest for at least 10 minutes or for 2-3 hours in the refrigerator.
When ready to serve, taste the fish for seasoning and add more salt and pepper if needed.
Next, in a small bowl, stir together the lemon juice, ginger, onion, long green chili, Thai chilis, and fish sauce. Combine with the fish mixture.
Top the tuna with the grilled pork, cucumber, cilantro, tomatoes and lemon zest. Toss everything together and serve right away.
---
---