Baked Pasta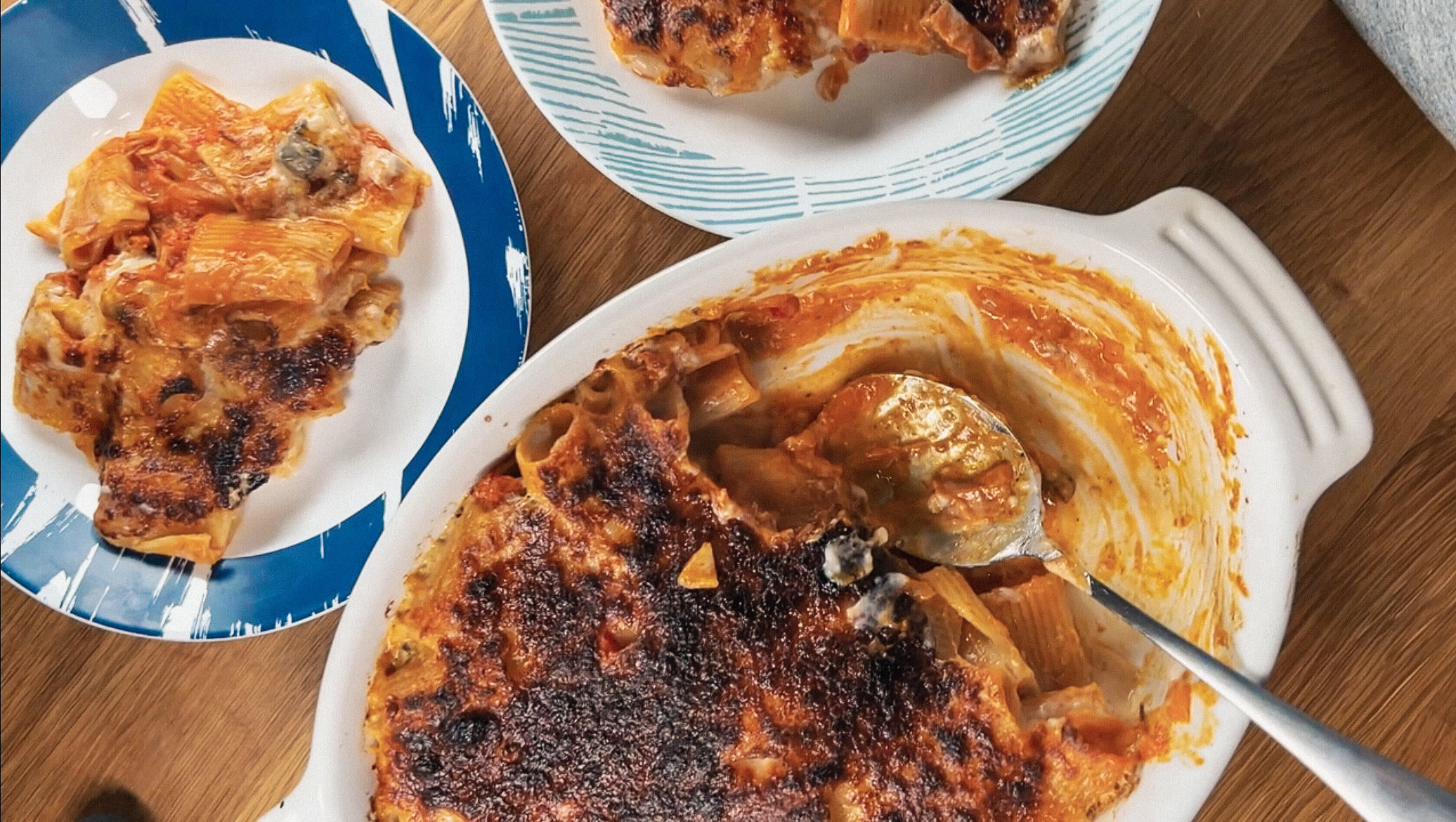 This is my moms family recipe. A crowd pleasing comfort food that uses the help of some store-bought ingredients. Easy weeknight meal or great for parties.
Baked Pasta
Course: Lunch, Dinner
Cuisine: Pasta
Difficulty: Easy
Ingredients
2 tablespoons vegetable or olive oil

1 cup cooked ham

1 cup diced onions

1 cup cooked and shredded chicken breast (I use a store bought rotisserie chicken)

1 cup thinly sliced red bell pepper

1 jar (26 oz) store bought spaghetti sauce (I use the Ragu sauce flavored with meat)

1 lb penne/macaroni/rigatoni pasta

1 can (8 oz) cream of mushroom soup

1/2 stick of butter

1 bag of shredded Italian or Pizza blend cheese
Directions
Cook pasta until al dente (per directions on the box). Drain and set aside.
In the same pot, heat oil then brown ham over medium low heat then add onions and continue to cook until it caramelizes but not burned.
Add shredded chicken sauté for about 2 minutes. Then add the spaghetti sauce and bell pepper to the mixture and simmer for about 4 to 7 minutes. Turn off heat then add cooked pasta to the sauce and set aside.
In a small pot, cook cream of mushroom soup per directions on the can. While simmering, add ½ stick butter. Once cooked, turn heat off and set aside.
Pre-heat the oven to 400 degrees.
Evenly arrange the pasta mixture into a 9" X 11" baking dish. Next, evenly pour the cream of mushroom mixture over the entire pasta mixture. Once the pasta has absorbed all the soup, sprinkle cheese on top.
Cover with foil and bake for about 20 minutes. Then take out the foil and broil for about 5-10 minutes or until top is golden brown
Let cool for about 15 minutes before serving.
---
---