Baked Mac and Cheese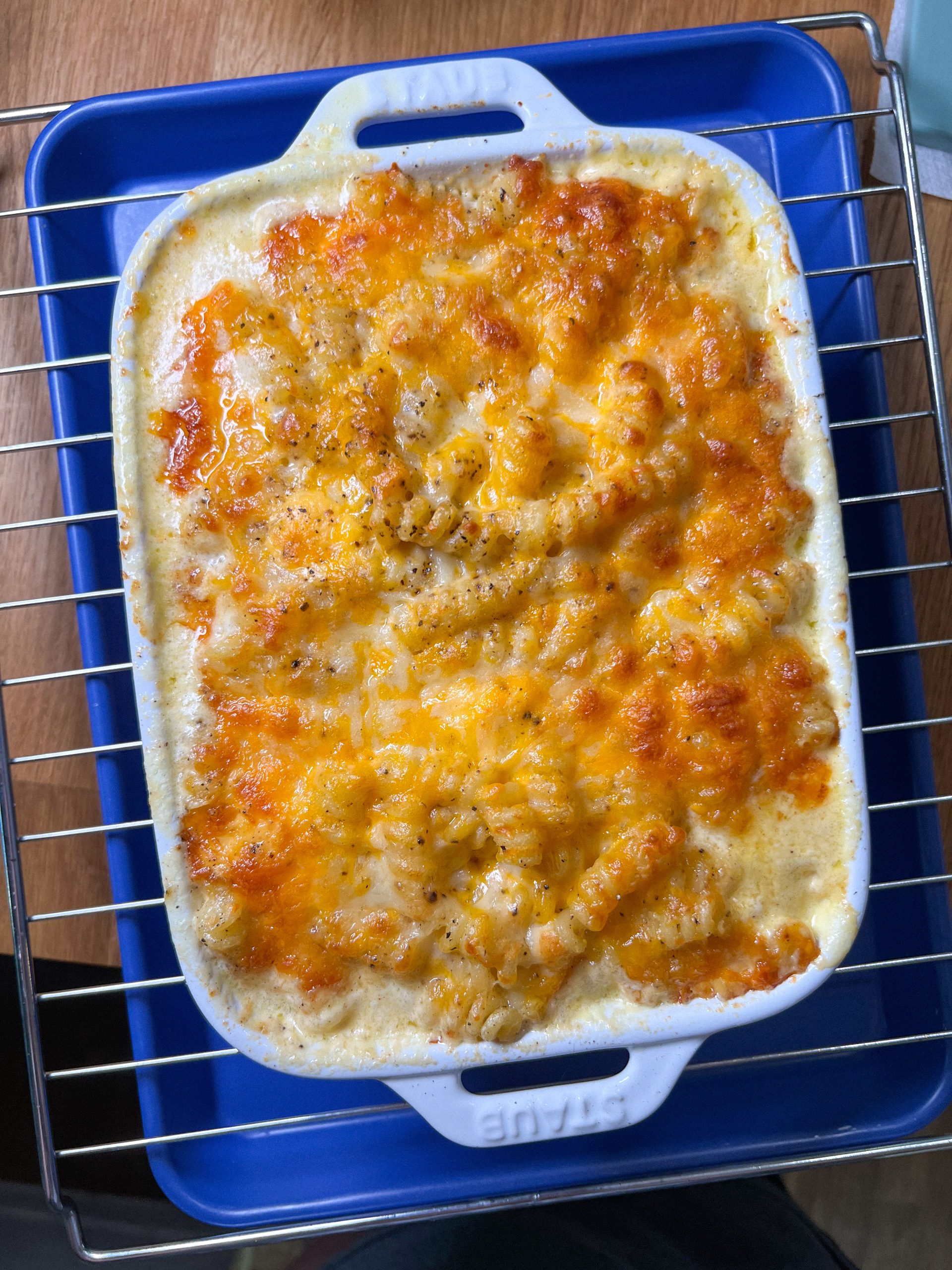 Who doesn't love noodles and cheese?!
Baked Mac and Cheese
Course: Lunch, Dinner
Difficulty: Easy
Here is an easy mac and cheese recipe. The original recipe is Joanna Gaines' recipe which I added my own modifications to.
Ingredients
Kosher salt

16 ounces fusilli corti bucati, cavatappi, or elbow macaroni

1 1/2 cups heavy cream

1/2 cup milk

8 tablespoons (1 stick) unsalted butter

8 ounces processed cheese, such as Velveeta or cream cheese, cut into 1-inch cubes

8 ounces Trader Joe's Cheddar & Gruyère Mèlange (or just Gruyère) cheese, grated (about 2 cups)

8 ounces white or yellow Cheddar cheese, grated (about 2 cups)

1 1/2 teaspoons yellow mustard

1/2 teaspoon ground nutmeg

1 1/2 teaspoons freshly ground black pepper
Directions
Bring a large pot of generously salted water to a boil. Cook the macaroni until al dente according to the package directions. Drain thoroughly and transfer to a large bowl.
Meanwhile, position a rack in the top third of the oven and preheat the oven to 350°F.
In a small saucepan, combine the cream, milk, and butter and heat over medium-low heat until warm and the butter is melted. Pour over the pasta. Add the Velveeta or cream cheese, 1 1/2 cups of Gruyère cheese, 1 1/2 cups Cheddar cheese, mustard, nutmeg, pepper, and 1/2 teaspoon salt and stir until well combined.
Pour the pasta into a baking dish and spread evenly. Top with the remaining Gruyère and Cheddar cheese. Bake until the cheese is melted, about 25 minutes.
Remove the baked mac and cheese from the oven and let stand for 5 minutes. 
---
---