Monggo Guisado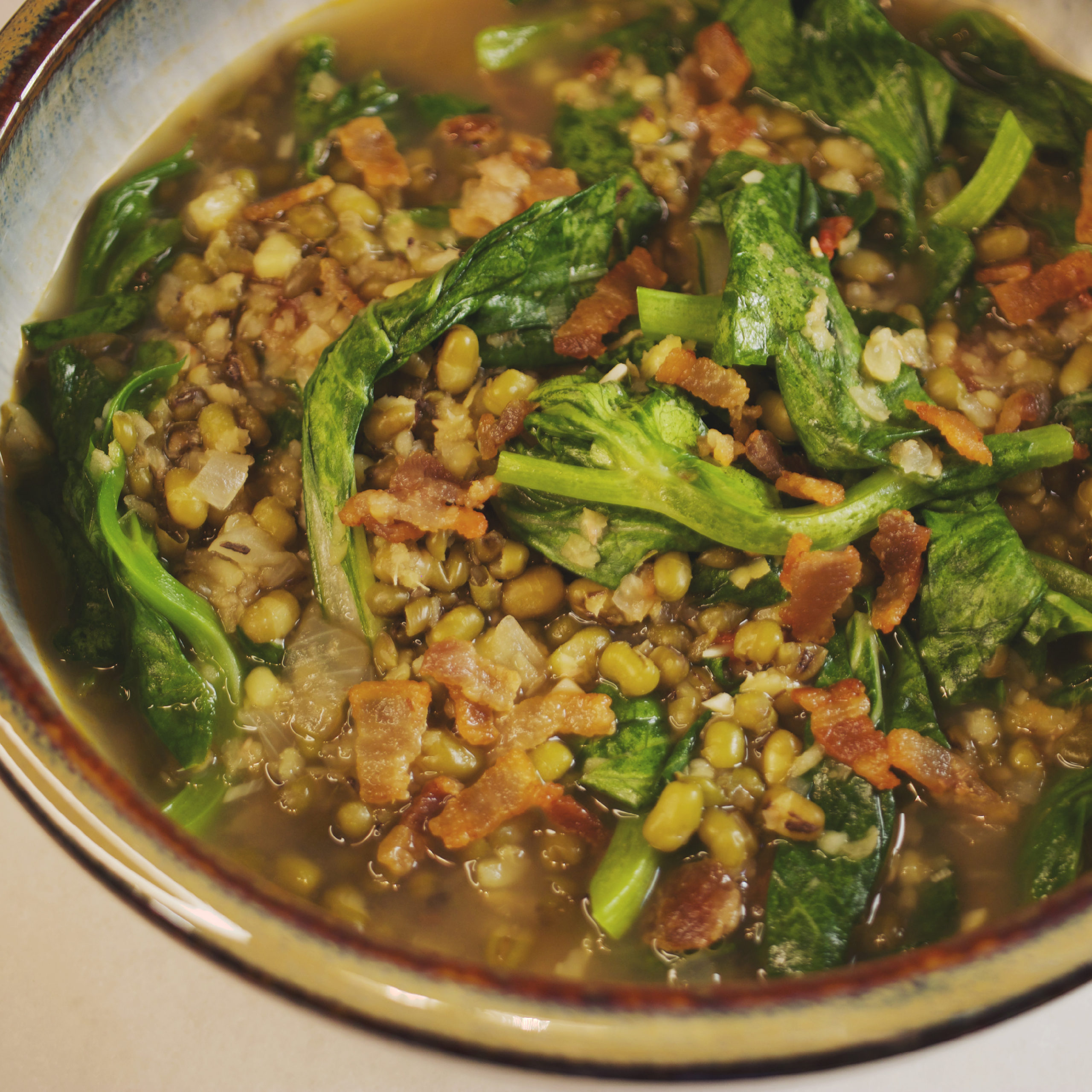 Hiii, it's been awhile!
I am back with another Filipino dish for you. This time we've got MONGGO (aka Monggo Guisado, Munggo, Ginisang Munggo) – a Filipino Mung Bean Soup/Stew. Super simple easy weeknight meal.
Monggo Guisado
Course: Lunch, Dinner
Cuisine: Filipino
Ingredients
1 tomato, diced

1 medium onion, diced

6 cloves of garlic, minced

1 lb pork belly, small dice or sliced into strips

1 package mung beans (whole or halved)

1 Knorr Pork Bouillon cube

1 bunch of green leafy vegetables (i.e. snow pea leaves, spinach, bok choy, etc.)

Patis (fish sauce)
Directions
Prepare all ingredients. Chop tomato, onion, garlic. Rinse leafy greens, set aside.
Bring mung beans to a boil in a small saucepan. Water should cover beans by about 1 inch. Boil for 25-30 minutes until beans are soft, plump and have started to break apart. 
In another heavy bottomed pot, cook pork belly until crispy and golden. Remove from pot and set aside.
With the remaining pork fat in the pan, saute the onions, garlic and tomatoes until soft and translucent. You want these to sweat and not necessarily brown and crisp up and be become a jammy consistency.
Next, add in the pork bouillon cube and combine until dissolved. 
Once the beans are ready, add all contents (including the liquid) into the pot with the aromatics. Mix to combine.
Start adding leafy greens until they wilt. 
Add fish sauce, 1/2-1 tbsp at a time.
Taste and check for seasoning. Top with the pork belly and/or chicharrones. Best served with steamed white rice.
Recipe Video
---
---