Lechon Manok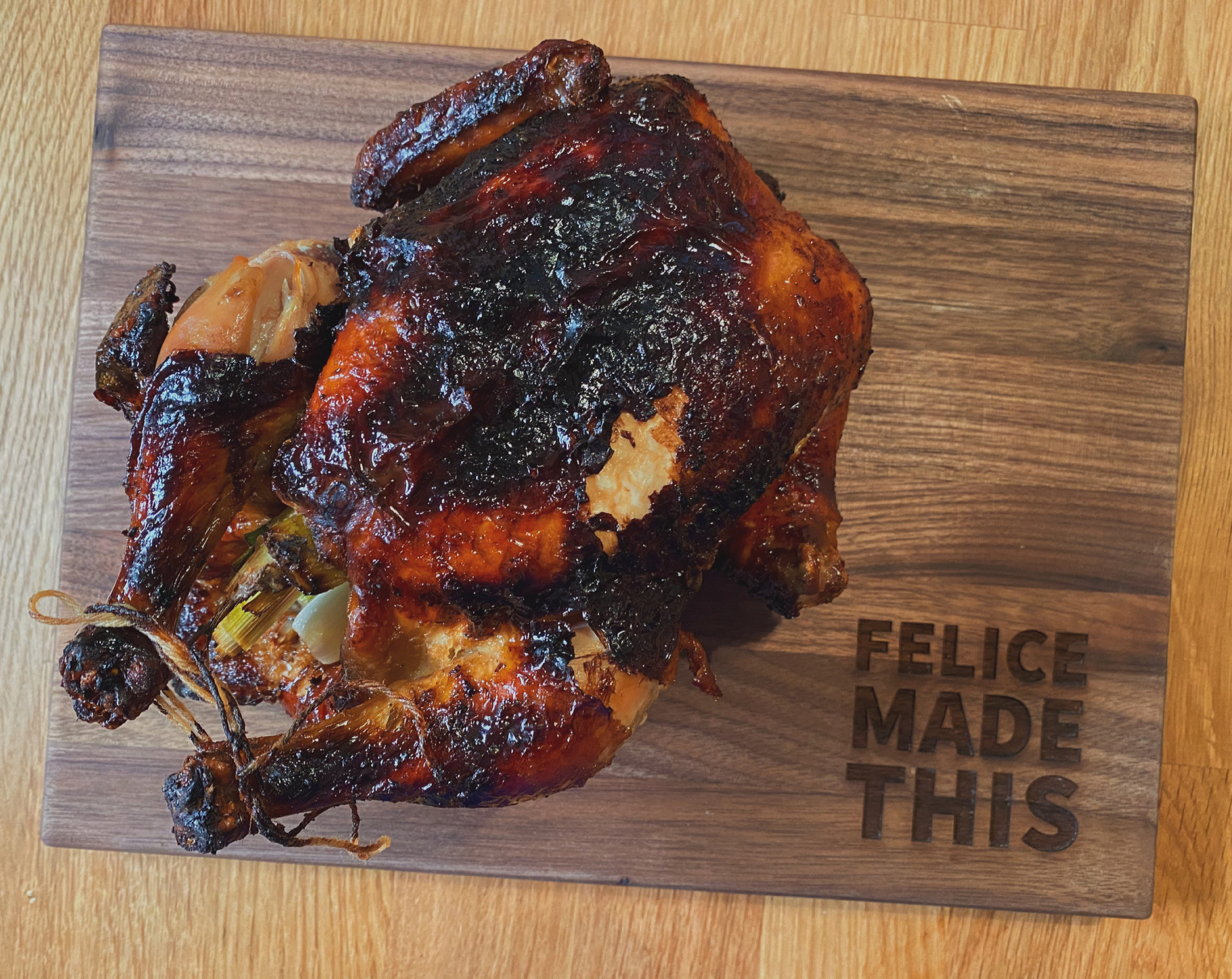 Lechon manok is a Filipino spit-roasted chicken dish made with chicken marinated in a mixture of garlic, bay leaf, onion, black pepper, soy sauce, and patis (fish sauce). The marinade may also be sweetened with brown sugar. It is typically stuffed with tanglad (lemongrass) and roasted over charcoal.
For my homemade version, since I don't have a spit roast, I used my air fryer. This worked out perfectly.
Lechon Manok
Course: Lunch, Dinner
Cuisine: Filipino
Difficulty: Easy
Ingredients
2 lb whole chicken (or chicken thighs, drumsticks, etc.)

marinade ingredients:

3-4 sticks lemongrass

4-5 green onion stalks

3 tbsp ground fresh ginger 

3 tbsp fresh garlic

3 tbsp brown sugar

1/2 cup soy sauce

1/4 cup patis (fish sauce)

4 tbsp vegetable or canola oil 

1/4 cup calamansi juice (or lemon or lime)

1/2 tsp Black pepper

Directions
Blend all marinade ingredients together in a blender or food processor.
In a large bowl or resealable bag, add chicken and pour the marinade over. Make sure to submerge the entire chicken in the marinade. Marinate for at least 6 hours, but it is best to do so overnight.
When to ready cook, stuff with lemongrass and lemon. It is optional truss the chicken but not necessary.
Place chicken in the air fryer, and cook for 30 minutes. Then flip the bird (lol) and cook for another 30 minutes.
After an hour, use a meat thermometer to make sure the chicken is cooked through. Probe the chicken between the breast and thigh meat, making sure you are not touching the bone. You are looking for an internal temperature of 165° F
Taste and add salt if necessary.

Notes
Enjoy the chicken with a side of rice, salad or noodles or just by itself.
---
---