Filipino Kare Kare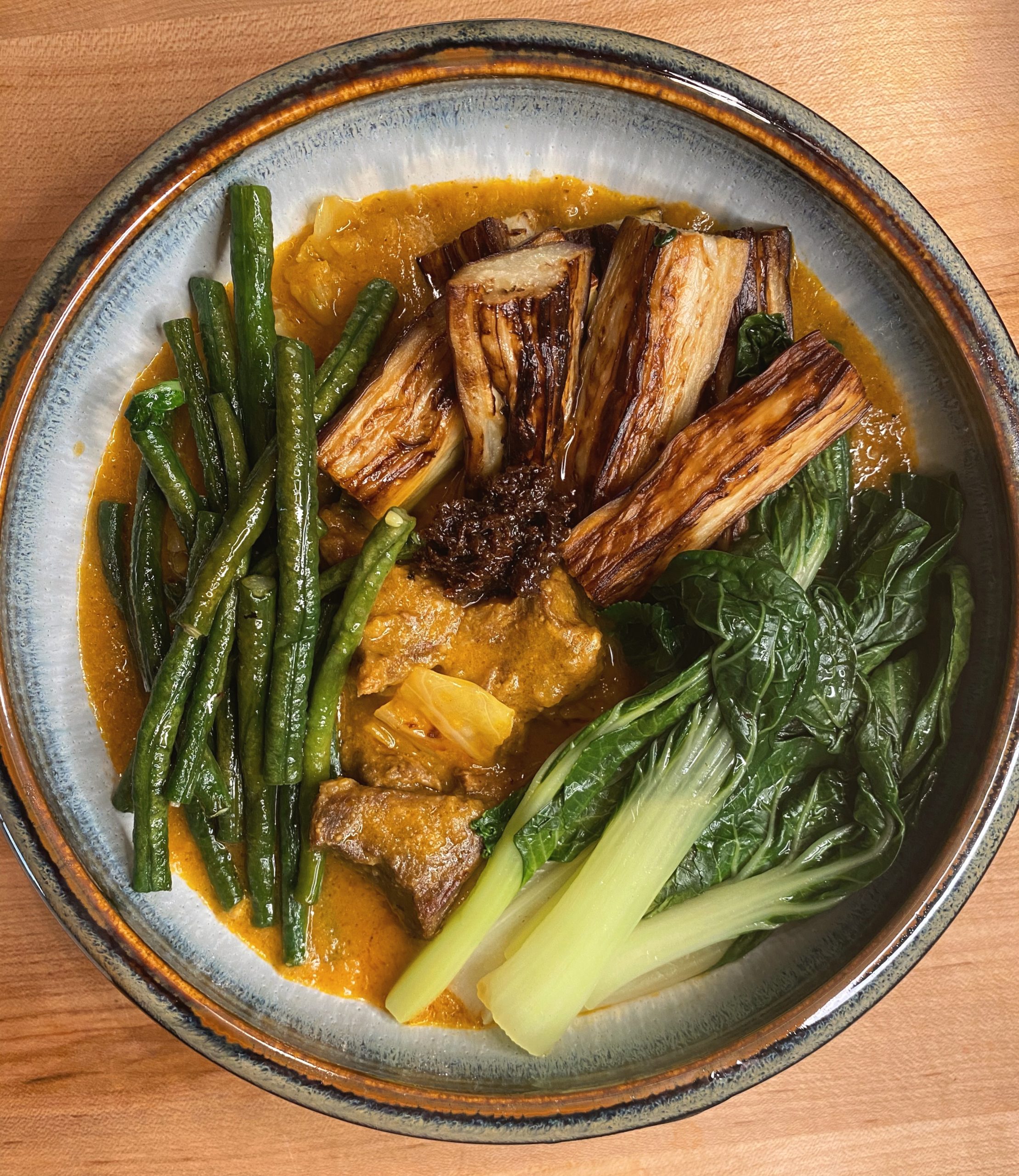 Kare Kare (pronounced 'ka-reh ka-reh') is a popular Filipino stew with a thick savory peanut sauce. It's typically served on special occasions but can also be made for a weeknight meal. You can use meat, seafood or easily make it a vegetarian dish.

Most commonly (or "authentically") oxtails are used for the meat but that can get pricey (hence, why this dish typically served for special occasions). I usually opt for a combination of chuck roast and short ribs or beef shanks. I would recommend browning the meat. I recently discovered the magic of browning meat in the oven – thanks Ina, my hero. Do this step, it's a flavor builder.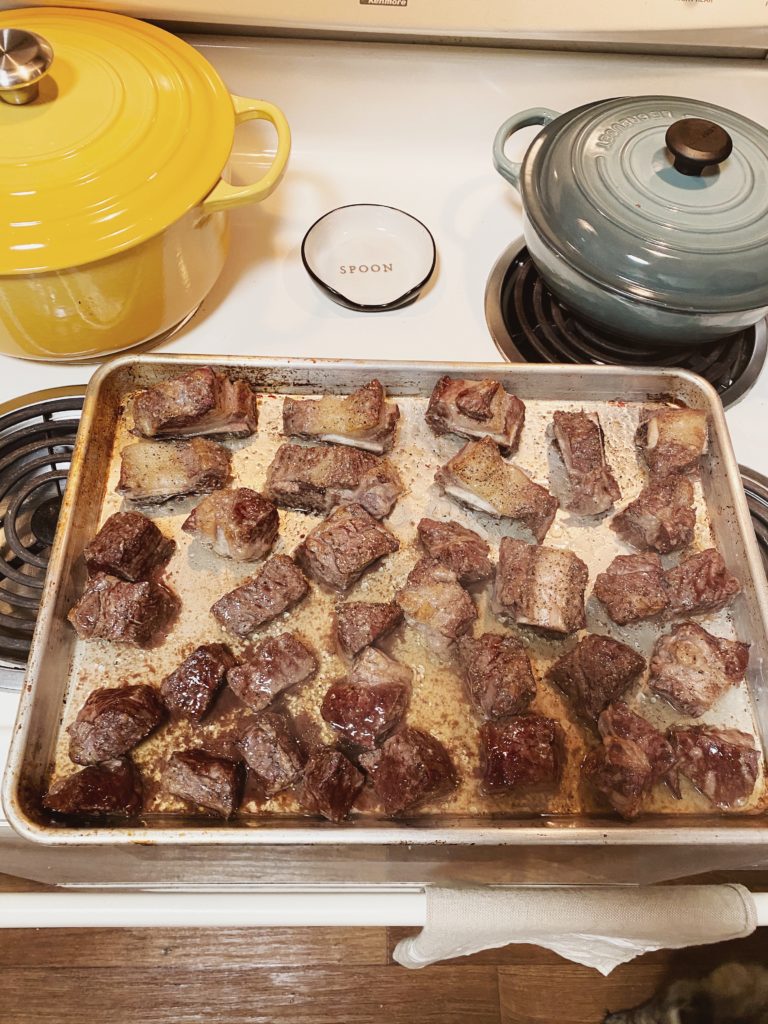 For the peanut sauce, you can use the from scratch recipe listed below. Or use the optional seasoning packet (see note*), which helps make this an easy weeknight meal.
ALWAYS ALWAYS ALWAYS serve and eat kare kare with bagoong (fermented shrimp paste). I promise you, this takes it to the next level!
I hope you give this a try. Follow me on Instagram @felicemadethis and if you do cook up this recipe, tag me!
Here is the recipe:
Filipino Kare Kare
Course: Food
Cuisine: Filipino
Difficulty: Medium
Ingredients
2 pounds short ribs or chuck roast 


6 cups of water

2 large eggplant ends trimmed and cut into 1-inch thick

1 bundle long beans sitaw, cut into 3-inch lengths

1 bundle pechay/bok choy ends trimmed and leaves separated

¼ cup rice flour*

1½ tablespoons annatto powder*

1½ cups peanut butter*

1 tablespoon oil

1 medium onion peeled and sliced thinly

4 to 5 cloves garlic, minced

2 tablespoons fish sauce

salt and pepper to taste

Bagoong for serving
Directions
Brown meat in oven at 425°F for 20 minutes.
In a deep pot, sauté onions and garlic until soft. Place meat and enough water to cover. Add fish sauce and cook for about 2 to 3 minutes. Over medium heat, bring to a boil, skimming any scum that accumulates to top. Lower heat, cover and simmer, adding more water as needed to maintain 6 cups, for about 2 to 3 hours or until meat is tender.
In a skillet over medium heat, add rice flour and cook, stirring occasionally, until lightly browned and toasted. 
In a bowl, combine toasted rice flour, annatto powder and peanut butter in 1 cup reserved broth and whisk until smooth and well blended.
In a skillet over medium heat, fry eggplant until brown on all sides. Remove and set aside. Next sauté sitaw/long beans and bok choy. Set all vegetables aside. 
Once the meat is tender, add annatto water, rice flour and peanut butter mixture, stirring well to combine. Season with salt and pepper to taste. Continue to simmer for about 10 minutes or until it begins to slightly thicken. Add vegetables and cook for about 2 to 3 minutes or until heated through and tender yet crisp. Serve hot with shrimp paste on the side.
Notes
*Note: You can use the Mama Sita's Kare Kare packet in place of the rice flour and annatto powder listed above. Make sure to read the instructions on the back for the amount of peanut butter to add.
---
---