Filipino Chicken Curry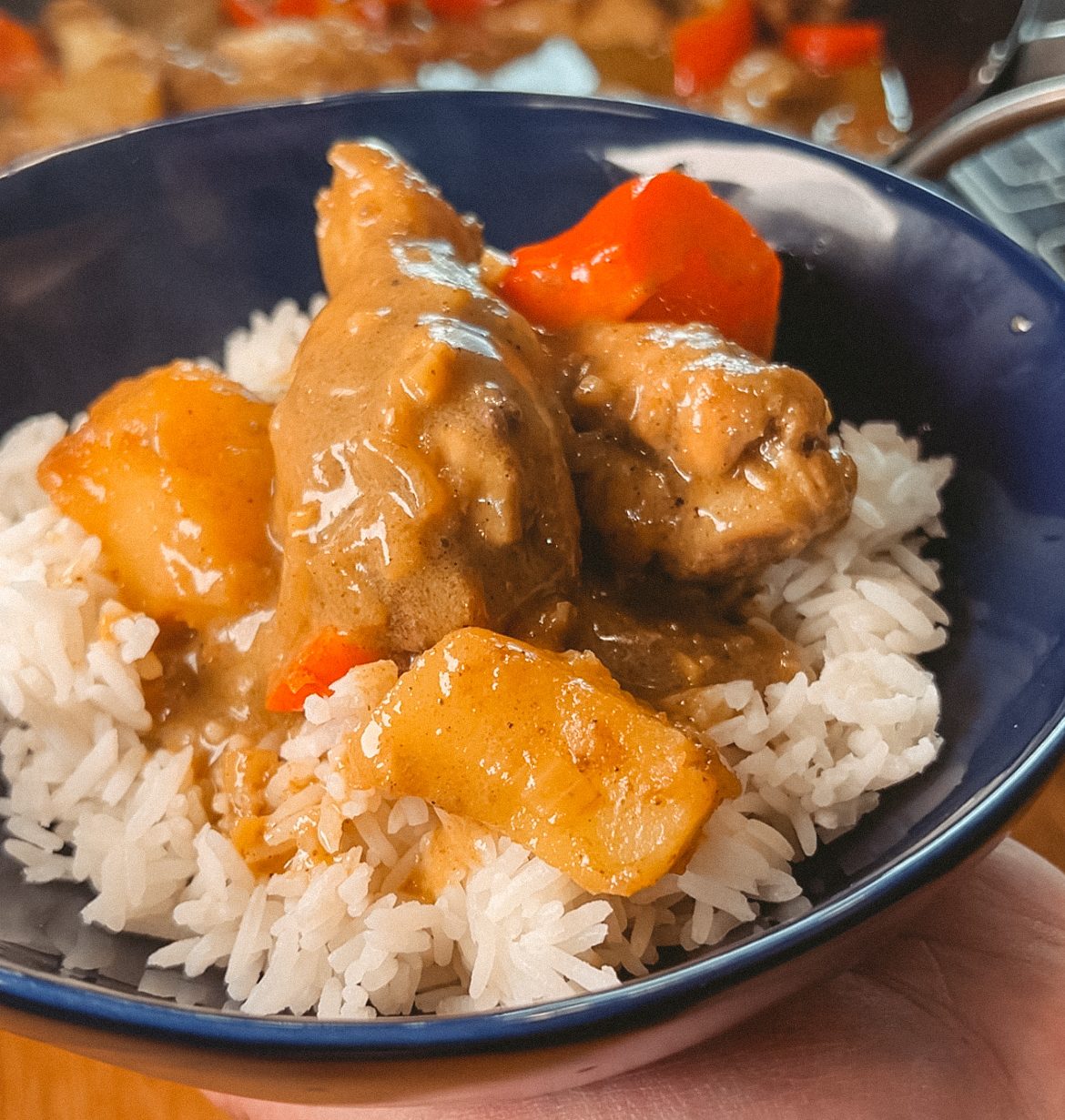 Sharing my mom's recipe for this family favorite! Filipino Chicken Curry makes use of a combination of curry powder, coconut milk, and fish sauce and is one of the mildest curry dishes found around the world. The flavors are savory, rich, and creamy with a hint of sweetness.
Filipino Chicken Curry
Course: Lunch, Dinner
Cuisine: Filipino
Difficulty: Easy
Ingredients
4 tablespoons canola oil

1 potato, peeled and cubed

1 red bell pepper, seeded and cubed

2 tablespoons unsalted butter

1 medium onion, diced

1 thumb length ginger, minced

1 tablespoon fish sauce (patis)

1 tablespoon curry powder

2 pounds chicken wings (or thighs)

13.5 oz can of coconut milk

Salt and pepper
Directions
In a heavy bottom pot or wok over medium heat, heat oil. Add potatoes and cook for about 2 to 3 minutes or until lightly browned and tender. Remove from pan and drain on paper towels.
Remove excess oil from pan except for about 1 tablespoon. Add bell peppers and cook for about 30 to 40 seconds. Remove from pan and set aside.
Add butter to pot/wok, then add onions and ginger and cook until softened.
Add fish sauce (patis) and curry powder.
Add chicken and cook, stirring occasionally until lightly browned.
Add coconut milk and simmer over medium low heat for about 20 to 30 minutes until the chicken is tender.
Add potatoes and cook for about 3 to 5 minutes or until tender.
Season with salt and pepper to taste.
Add bell peppers and cook for about 1 minute or until tender yet crisp.
Serve hot with some fresh cooked rice.
---
---